This week began with me drafting an ignore list not unlike the black book of blocked callers I keep by my desk. In this week in pop you will find nothing on Adele, Artic Monkeys, Beyonce, Kanye, Kid Cudi, Sufjan Stevens, Warpaint and for god sakes no Radiohead. But you will find persons of interest, new and returning, who give us the mixtapes and playlists of our lives. Here they are ladies and gentlemen, in no particular order.
Despite the fact that G-Side have decided to push the release of their fifth album Island until November 11 (wow, that's 11.11.11), they just dropeed a breathtaking video full for "How Far (featuring Victoria Tate and Victoria Parham). Beyond the morphing cityscapes, and animated portrait drawing effects, the beats are big, supplied by Block Beattaz, and the flows have a forward-moving, almost marching soldier motion. Shout outs to their Slow Motion Soundz label. Another gem from the future classic contender:
I found it impossible this week to run from My Brightest Diamond, with her acoustic and orchestral "Reaching Through to the Other Side" making the proverbial blog appearances. Her album album All Things Will Unwind isn't due until October 18, but Shara Worden's alt choir grrrl jams are here now.
MP3: My Brightest Diamond, "Reaching Through To The Other Side"
Hear and see it performed live courtesy of A Story Told Well:
And thanks to Soundcloud's ever evolving interactive technologies, you too can put your self in the DJ/Producer/Selector/whatever chair and remix it here!
Sometimes I feel like Bob Seger spilling his Coors Light sentiments over disco and affinities toward that "Old Time Rock and Roll" but the Austra "Spellwork (MNDR NighttimeRemix) damn near got me moving and on the floor. It's the project of Toronto's Katie Stelmanis, and her remix compilation 'Sparkle' is out digitally July 26 and August 23 on 12-inch vinyl.
Say what you will about Zac Pennington but he really pours himself into everything he does. Read this excerpt from the press release for the Parenthetical Girls' upcoming album Privilege and you'll see what I mean:
"…Parenthetical Girls are in the midst of releasing Privilege–the band's new full length–as a box set of five extremely limited 12″ EPs on their own Slender Means Society label. These EPs will be sold separately in sequence every quarter over the next 15 months, each as they are completed. They will not be distributed to stores. As the cycle concludes, the fifth and final 12″ will come packaged in a beautiful, aesthetically cohesive LP box designed to house all four of the preceding releases, forming the complete Privilege album. Limited to 500 physical copies per EP, the 12″s will each feature original art by renowned Swedish illustrator Jenny Mörtsell, and will be hand-numbered in the blood of their respective band members. The third 12″–subtitled Mend & Make Do–was released on March 22, 2011, and are numbered in the blood of cover star Jherek Bischoff."
Fitting given the histrionics in both the song and video "Careful Who You Dance With", which depicts the lavish, angst ridden charm of the eleborate and elegant pop bourgeois.
Also check out the remixes for "Careful Who You Dance With." Tearist's remix gets my vote, with Former Ghosts' coming in a close second with an elegant and sparse reworking, while the Dat'r and Xiu Xiu remixes will also not dissapoint the fussiest of music palates.
A previously unreleased Frank Ocean tracks hit the web this week, and while we are unsure of the track's officiality or leak origin, we are proud to share it with all of you.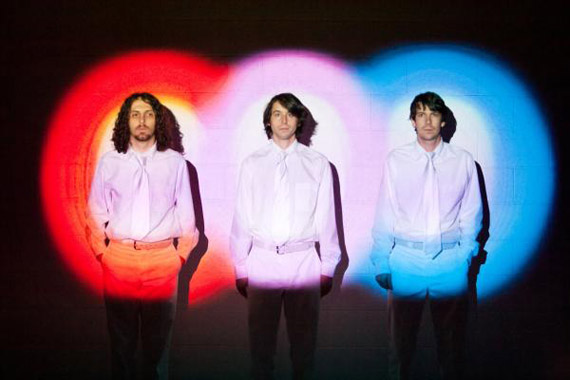 These three dudes from Connecticut are Stepkids and they have a self-titled debut on the way compliments of Stones Throw Records. They make a type of soul music that has the Curtis Mayfield string arrangements and the In All Directions-era Temptations/Norman Whitfield approach to production. Listen to the heady masterpiece "Wonderfox" via the video that debuted this week.
You can also check out another preview via this Stepkids podcast, "Shadows on Behalf" here.
MP3: Stepkids, "Shadows On Behalf"
In the infancy of Goldmine Sacks, I recall k'vetching about Dunes not getting the attention they deserve. Just as fellow Mika Miko members Jessica and Jennifer Clavin have gone on to form Bleached, former MM bandmate Kate Hall has started Dunes. Also both bands will be at the Thursday July 21 show of Impose and Art Fag Recordings 3 Nites During the Con happening alongside Comic Con in San Diego. More details here.
We recently talks about Big Troubles and their upcoming August 30 Slumberland 7″ release feauturing "Sad Girls" and "Phantom." Today we have discovered further details pertaining to their full length Romantic Comedy and would like to share a sneak peak with their latest leak, "Misery." Despite the downer title, the song might somehow put a skip in your step and reaffirm you belief in indie-ish music.
Bet you are you as excited as we are about the new Crystal Antlers album and can hardly wait until it drops July 19. If you are like so many of us with limited patience and unlimited eagerness, then look no further then this following stream for Two-Way Mirror here.
Coming at you from the Athens, Georgia school of cool is Reptar who have done the legit thing and got themselves signed to Vagrant Records along with Make Records Not Bombs for their anticipated Oblange Fizz Y'all EP available digitally August 2. "Stuck In My Id" is streaming here for you and your bros enjoyment.
Also check out their wonky video for "Blastoff" chock-full of odd images, conundrums and a disembodied singing mouth. Weird, but it works. Also look out for Reptar touring with Foster the People and Cults at both Lollapalooza and Austin City Limits in support of Oblange Fizz, Y'all!.
Reptar – Blastoff from Ross Brubeck on Vimeo.
East Londoners Fair Ohs have put in some serious work over the recent years. From creating notoriety as a hardcore act called Big Fucking Deal, changing their name to Fair Ohs for the sake of hassle (so their mums can brag about them to friends with little chagrin no doubt), sharing split records and casettes with Cold Pumas, Male Bonding, Spectrals, Women and jumping around UK labels like Faux Discx, Sex is Disgusting and maybe a few others that will come to me later today. The Ohs are excited about their July 26 release of their debut Everything is Dancing and want to share the upbeat "Baldessari" jam with you all. Perhaps if V. Weekend's Ezra Koenig had an East London edge and a background in hardcore instead of an Upper West Manhattan upbringing and a Columbia University English degree; Contra might have come out like a punkier soundtrack companion piece to the Konami game of the same name.
Fair Ohs – "Baldessari" by Creeping Wave
Finally something for the persistent neurotic in all of us. Youth Lagoon is the journal of Trevor Powers, who makes very personal music with the help of piano and rooms/effects that provide good reverberations. It looks like Fat Possum has signed him and the album The Year of Hibernation will be out September 27(and on Lefse in Europe). Hear Mr. Powers describe his work in his words:
"For my whole life I've dealt with extreme anxiety. Not anxiety about passing a test or somewhat normal things, but weird.. bizarre things. Things that only I know. I sometimes feel like I'm literally being eaten up inside. So I started writing these songs. Not just songs about my anxiety, but about my past and my present. Songs about memories, and all those feelings that those bring. I know that if I can be honest about what is inside my mind, there will be others that will be able to relate to it."
For those that prefer your Jesus and Mary Chain in the Some Candy Talking/Darklands type vein, you will enjoy the doomed wistfulness of the Veronica Falls new track; "Come on Over." Taken from their upcoming Slumberland/Bella Union debut, they carry the gloom and hope with uplifting vocals and melodies that made us fall in love with "Beachy Head" and "Found Love in the Grave Yard" not too long ago. Look for it everywhere September 20.
Oh great. Is Christopher Owens anouncing a Girls album full of bummer heart-break-vibes that will destroy summer-good-times for real? The good news is that he has the kindness and decency to wait until September 13 (September 12 in the UK) to drop the second proper album Father Son and Holy Ghost. No official leaks, but I have a tracklisting to provide a quick surficial view
Father Son and Holy Ghost track list:
01 Honey Bunny
02 Alex
03 Die
04 Saying I Love You
05 My Ma
06 Vomit
07 Just A Song
08 Magic
09 Forgiveness
10 Love Like A River
11 Jamie Marie
And for those of you lucky bastards attending the Vans + FYF Vans House Parties, enjoy Superchunk, OFF! and Lemuria July 14, the ever mighty Cro-Mags, Fucked Up July 29 and Glass Candy with Man Man August 4. You all have my blessing and envy.
And here is the video that just dropped for "Rich & Black" with Raekwon featuring Nas that showcases the legends living it up. Enjoy the weekend everybody.