Helping you celebrate your Fourth of July proper, Impose's Week in Pop brings you a host of breaking media exclusives with, first, a romp through a handful of the week's big headlines. Big news as Kanye's Glastonbury set was interrupted by stage invader Lee Nelson; Apple Music buzz everywhere; Killer Mike continues to be one of our favorite voices of conscious reason and justice ever as he guested on Tavis Smiley this week; Mykki Blanco launched the Dogfood Music Group imprint; Dave Grohl expressed apprehensions about watching Montage of Heck; NWA reunited at the BET Experience (sans Dr. Dre & the departed Eazy-E); Kendrick Lamar raised our spirits with his Bet Awards performance of "Alright" (followed by Fox News' subsequent ignorant responses, and later, Kendrick's own rebuttal), then dropped the official video a few days later; while Diddy took a tumble through a trap-door portal during the BET Awards; James Bond: The Musical is happening based on the Ian Fleming novels; Joni Mitchell continues to recover from a brain aneurysm; Matt Martians of the Internet discussed the Odd Future crew shedding their former name; Plasticgod has made a line of Nick Cave figurines; Keith Richards of the The Rolling Stones declared this week that the 'Stones have no interest in splitting up; and we mourn the loss of Yes bassist/vocalist Chris Squire.
Now as we look ahead, we bring you the big fireworks from Blossom, The Longshots, Main Attrakionz, Jonathan Sibha, Rev Gusto, Sunshine Faces, Alge, Collin Thibodeauxx, Crowd, Lizzy Mercier Descloux, The Perfumes, Shelf Life, Sonic Hearts Foundation, Swahili Blonde, T e e n e n d e r featuring guest selections by Main Attrakionz's MondreM.A.N. and Squadda B, and more — in no particular order.
Main Attrakionz
Four years back, Main Attrakionz released 808s & Dark Grapes II on Mishka when the group was introducing the new league of artist luminaries, and defining themselves further as the self-proclaimed 'best duo alive.' Nearly half a decade back they were "Cloud Skatin" with Danny Brown when he was a rising Detroit star, introduced an at the time unknown A$AP Rocky with "Take One / Leaf" and claiming the press micro-genre tag of 'cloud rap.' For the past four years since, the North Oakland based Green Ova crew has proselytized the forthcoming of 808s and Dark Grapes III, and now it has arrived via Neil Young's Vapor Records to a host of fanfare well worth the wait and entirely produced by Friendzone (fellow Oaklanders James Laurence & Dylan Reznick). But don't call this a comeback, as MondreM.A.N. and Squadda B have continued to release numerous tapes via Green Ova over the years, with Mondre releasing his solo album debut with They Say I Struggle Rap not too long back, Squadda releasing countless solo cuts, an East Bay collective project with The Urge, collaborating with Yalls Dan Casey, Dominant Legs, and so much more.
As we celebrate this anticipated release, we are honored and privileged to present the following exclusive track for track breakdown of 808s and Dark Grapes III from MondreM.A.N. that provides historical details, and reflections on one of the year's best releases. Hear Mondre introduce in-depth a record  four years in the making as he bounces thoughts on the twelves tracks; "Shoot The Dice", "G.O. Style", "Dip", "Spoken Jewelz", "Ain't No Other Way", "Cycles", "My Story", "Right Now", "Summa Time", "Green Ova Diamond", "G.O. All I know", and "Two Man Horror Film":
Presenting the following stream of 808s and Dark Grapes III, with "Shoot The Dice" that begins with a testament to trials and tribulations where Mondre and Squadda share verses from their own angles and visions while Green Ova vet Shady Blaze brings along some of his classic chopper-charged bars. "G.O. Style" brings some real life stories statements from the crew joined by Dope G, Robby Rob and Lo C4, where the Friendzone production mixes classic hip hop homages with an eastern video game odyssey of sound on "Dip", dropping and spilling and spitting diamonds and gems on the keyboard cascading horn hopping "Spoken Jewelz", right before the best duo bring the bars back to their own stated basics of Bay Area being on "Ain't No Other Way". "Cycles" meditates and ponders the cyclical nature of things as Mondre and Squadda reflect on kin folk, friends, confidants, and heavy anecdotes, to the beautiful confessional chapter where the duo talk about life's lessons and progressions on the autobiographical "My Story" (that features what sounds like a vintage Richard Pryor stand-up sample).
Bumping the fresh feeling of the presence on shoulder shaking synths of "Right Now", Mondre and Squadda send one up as an all time sun season anthem with "Summa Time", with more of that sparkling Friendzone feathered pastoral production with the sun beam shining "Green Ova Diamond" (also an instant summer afternoon must hear track), lending more real life tales from the East Bay with somber tones on "G.O. All I know", right before leaving you with "Two Man Horror Film" where biggest, and brightest transcendental sounds leave you with a kind of out of body experiences reserved for touring Baptist tent revivals. This is what you have waited nearly half a decade for, where Main Attrakionz remain true to themselves, their synergy, devout loyalties to family, friends, collaborators without having to do any back flips or pandering. Their influential styles shine bright as ever in a pop music landscape that has already been affected and influenced by the duo and friends from way both back, and still the trends and styles to arrive on the road ahead.
Main Attrakionz's 808s and Dark Grapes III is available now on Vapor Records.
The Longshots
Fort Worth, Texans The Longshots returned with their green pressed Mucho Mango 7″ for Mock Records, and now present the world premiere of the Squanto directed video for the b-side "Enantiodromia". With a title that borrows from Carl Jung's idea of "the unconscious acting against the wishes of the conscious mind;" the clash of consciousnesses collects with special effects-enhanced images of the band idling about about with hyper interspersed images of vintage video clips, and GIFs. The gang of Joey Gorman, Alex Zobel, Kris Luther, Brady Hamilton combine together all the energy of their fun fringe riot rock with a visual blend that finds The Longshots kicking it local, hanging out in home studios, lending performance clips, home grooming, calisthenics, and more codes of mischievous disorderly conduct.
The Longshots' "Enantiodromia" video begins with the home studio headphones being placed squarely on the ears as the heavy wattage can be heard being switched on. After the band's name, and song title appear on-screen; a host of subtle analog VHS effects are introduced to the equation as the video takes on a frantic frame rate pace that accelerates ahead off the assertion of raw individualism found in the throat belted "I wanna do what I wanna do" lyrical ethos. A mixture of new and old video footage intertwines footage of the band hanging about Forth Worth with found clips that together create an ADHD ad council PSA advisory with random buzzwords that appear with words like THINK, ACT, CARE, CARCINOGENIC, MELT FACE, and more. Edited images that look ripped straight from cable public access programs, obscure ads, exercise sessions, and other random routines move together at the speed of "Enantiodromia" that break down the barriers between the conscious faculties in a snarling stew that is rigorously stirred by The Longshots' fun for fun's sake style. Immediately after the following video debut, read our lively roundtable interview with Joey Gorman, Alex Zobel, Kris Luther, Brady Hamilton, and director Squanto—aka Rickey Wayne Kinney.
First up, give us the latest from Ft. Worth, TX. What's been good there lately? What's keeping ya'll entertained?
Joey: Around this time of year, the heat/vibe complex starts to feel a lot like the movie Sandlot.
And when 'It's too hot to play baseball, Benny'
…I usually turn to Mexican Cola as well. But personally I usually try to keep my balls out of the Beast's back yard. I smoke too much weed on top of having no PF flyers…to be dealing with a blind Darth Vader's mad dog. That's the best way I can articulate summer in Fort worth.
But straight up — we've been recording our sophomore full length Inhaler since February focusing very intimately with it. everything has been pretty much leading up to this 7″ release with Mock! which actually officially happened June 16 — the exact day we finished mixing in the studio ha ha…etc etc. We work really damn hard as a band — for the band — but mainly due to giving a shit about each other as much as we can, plus we rarely commit much thinking to the M.O.s of others.
In short; recording, recording, recording going on. Enjoying tactical planning, rock n roll, and mother fucking "True Detective"!
Brady: Fort Worth is the best. There are so many people here that are creating in one way or another. Great food, art, music, beers. Shout out to Don Carmen Pupuseria: Pupusa's for a buck, and the mystery juice is free. Pool games and people at the Boiled Owl and The Grotto keep me entertained…at least, when my lady's not around.
Luther: Tacos Ernestos!
Walk us through the experiences, and raucous adventures that went on during the making of your self-titled for Mock Records, to the new follow-up with "Mucho Mango" b/w "Enantiodromia".
Luther: The first album was us realizing we were actually a band. Then we just kept being a band. I played drums on that record. I don't play drums so eventually I didn't have to. Now I play bass. Yeah, we just keep being a band.
JOEY: Yeah, Luther's answer is where the nut meets the nutshell.
I mean all we knew is that we dug being around each other, we could rip it apart and nail it to the cross if we had to…
and we had to…
Like vigilante justice, without it's own drum set ha ha. Yeah, I mean cool shit went down — possibly even sexy or illegal things or something? Ha ha. But I mean Joe Walsh destroying a hotel room or David Lee Roth still trying to sing after whatever horseshit he has drug himself through…cant just be put on tab anymore. Axl Rose-types eventually filled or killed everyone's appetite for destruction. When we discuss the stigma of rock n roll, Zobel often quotes Thom Yorke's philosophy — that pretty much just goes to say…"if I want to REALLY wig out within my art and make it as crazy as the things I feel and see, my life…surroundings…relationships…or even fucking protocol should be taken care of.. calm."
How else can one shred 'til dead? Yeah Iggy and Keith and their species don't abide — but they honestly probably always had their shit together… shit wasted-homeless-withdrawing…even during that. Something about the soul of rock n roll VS the idea/flash/bullshit will always prevail. If you truly know its a longshot and that it is so unlikely to go down the way you think — is the only way to truly face it, match it, and beat it. they are just odds after all.
Brady: I joined the group as the guys prepared a tour to promote the self-titled album. The tour was our opportunity to bond and become a family. "Mucho Mango" and "Enantiodromia" (formerly titled "Mother Fucker") were written right before we took to the road, and they reflect where we were musically when we first started playing together. Recording this 7-inch was a breeze thanks to our familiarity with the songs and (producer) Jordan Richardson's seasoned abilities in the studio. It has a different sound than the self-titled release, just as the next thing we release will further evolve into something of its own.
Like the name of the b-side, what sorts of Carl Jungian principles of superabundant forces that inevitably produce the opposite are at work here on this wild rollercoaster of a song?
Zobel: Okay well let me start with some context. I used to think being a song writer was what I was all I wanted to be. I thought getting better and better at the craft of writing songs and playing in bands was the answer to all my questions. As good as I got at it, I began to see how it was failing me. I wanted to be an artist not just a songwriter and performer. Not just a member of a band or a convenient screen for others to project their fantasies and ideas of what being in a rock band must be like. The problem is people don't want that anymore. People think they want their rock and rollers to be hard drinking womanizers but they don't. They just want some REAL shit. I could write you songs or tell you stories about the times I did absurd drugs and found myself in bizarre predicaments but nobody would care because it's not REAL shit. And yeah I did do way more of those things than any human should be able to, but nobody cares or should because I was being a fake asshole. I wasn't being real, or progressive or interesting or avant-garde. I could tell you a million "raucous stories" about how we made this music and the kind of people we were but I think it would be boring. Times are changing and people want to hear about an artist not the rock and roll exploits and clichés of some neo-garage-rock/boy-band blind faith shit. Truth is you don't need to create a single piece of art for anyone else for the rest of your life to be an artist. My life is my art. I am my work. Just living and being your authentic self is much more interesting than shoving some rehashed rock and roll narrative down other people's throats. Don't think about what to do but how to be. Fall in love all the time. Don't try. Just be. Have fun.
Brady:
The grand plan on which the unconscious life of the psyche is constructed is so inaccessible to our understanding that we can never know what evil may not be necessary in order to produce good by enantiodromia, and what good may very possibly lead to evil – Carl Jung
To me, this song allows Zobel to depict his most extreme side, allowing him to see it and eventually face it.
Luther: That song was a riff that Zobel and I have had for years, tried with other bands, couldn't place it, got drunk and said fuck it and made it what it is. Other than l It speaks for itself really.
Joey: The night this song started/finished the writing process (as brady mentioned, this song's original title was "Mother Fucker" (you heard it first on Impose! Ha ha) was one of the only practices I've ever missed…. and I live where we practice. So maybe that's an example of a Jungian Principle.
But as far as our souls and attitudes go…the vibe of the shift is almost completely transparent. Accountability via love, not protocol. Thinking about what you say before you say it. Not to buffer it, but to MEAN it. Yes the song was written as fast as an exhale and feels like a furious one at that. But we've learned OUR meaning of originality under the umbrella fact that nothing is new under the sun. Basically, punk rock is going through a tune up. The whole 'fuck you, fuck the world, fuck the government' approach is exhausted-its just a bunch of general feelings and questions that have been sensationalized instead of answered or thought about…. rock n roll….punk rock w/e …when it was Little Richard destroying a piano while playing it… kicking it and shit…I'd say that was punk as fuck. Years later Elvis' hips took the 'awe factor' of raw human passion alongside an ignorant industry that easily manufactured and capitalized on an 'idea'… yeah I mean "Enantiodromia" (the song) is an idea you cant catch it, you cant control it. It will hunt far before it is hunted!
Tell us about Squanto's directorial debut with the ultra-ADHD video for "Enantiodromia". What was the making of this chaotic collage like?
[BAND DISCLAIMER***(So the PEOPLE know, 'Squanto' is mainly Rickey Wayne Kinney's alias for his insanely SPOT ON music project…it'll fuck you up]
Why don't we let the Doctor tell you himself….
Squanto: Alright.. so
The video was made in app on an Apple iPhone 6. Using several different photography, GIF, and video fx apps. In addition the process was a magnification of body language…the movements people make are silly…even when they are to be portrayed as serious if you look closely enough you can see them speaking to themselves.. That's what I tried to grab and punctuate with exclamation. Because in effect when one tries hard enough for something. Like any physics teacher will tell you there is an equal and opposite reaction…that opposition is an "enantiodromia" as a reflection of the human psyche. Basically I looked at two birds fucking and I thought 'that's gross' and then I thought 'why? It's just nature replicating it's self.'
…and then I made a music video.
Joey: I just loved getting texts at three am saying shit like, "Joey — I need you to film the other guys exercising in place with the same quality camera as your deodorant scene" which was great because A) we'd all be focused on new songs in the studio the next day so interrupting someone else's thought process to be filmed doing jumping jacks was too much ha ha. B)the guys had no idea where it was going other than to Rickey and that we all knew he could finalize this idea for a song — visually — better than anyone
It was one of the coolest fucking experiences one can have using all the Orwellian technology so to speak…its really just amazing tools of creativity and communication that we can use to uh….make music videos good again….then who knows, maybe NASA gets refunded.
Brady: I had seen some short clips he had done and agreed with Joey that this guy could make a rad video for us. It was simple for me, having someone record me for one minute, doing simple yet effective stretches and exercises. The rest was all Squanto.
Luther: I don't know, I'm just the most proud of Rickey "Squanto" Kinney. I'm glad he's sharing his crazy awesome brain with the world. We'd be at the studio and joey would just film me smoking a cigarette and then chasing him in a front yard or something? and Rickey made it look insane. Also some guy in the stock footage looks like Joe Peschi, and I share a birthday with him.
What is the significance in the video of the onscreen words in the video, from CARCINOGENIC, THINK, ACT, BOOM DEODERIZED to MELT FACE?
Joey: Its a fever dream. kind of created to strike up questions that no one can answer. we just woke up from that dream too every time we see it. maybe they connect to form some magic spell which brings upon totality. Or maybe somebody took some "feel goods" and made a video even Beavis and Butthead wouldn't sit silently for.
Luther: I think it's totally open to interpretation.
Brady: In both the song and the video, there is so much going on in such little time. Using a visual reference of flashing random words quickly, almost subconsciously at the audience, helps to tie everything together so the viewers brain can understand what is happening. At least what's happening for them…
Other local acts and artists you all want to give a shout out to?
Joey: Today Friday, July 3 is my little brother's twenty-third birthday, the cover of the 7″ is a photo of my great grandfather at a Claybourne, TX farmer's market in the 1960s, so shout out to him, to bloodlines, to fucking family!
Jake Paleschic, (go listen to him right now), The Cloudy Collective
Son of Stan (brainchild of Jordan Richardson who produced this 7″ and our full length)
Toy Gun, Fungi Girls, Bummer Vacation
Shadows of Jets (fronted by Taylor Tatsch who recorded the album we finished when this one was released)
The whole Dreamy Life crew! (literally keeping Fort Worth oh so funky) keeping fort worth oh so funky)
& every single person associated with our label/family — Mock Records.
the best indie label in the US.
Brady: Yeah, man Everybody. The scene is deep right now. All different kinds of stuff coming out. Much love to Big Mike, Secret Ghost Champion, Keegan Mcinroe, Son of Stan, Quaker City Night Hawks, Bummer Vacation, Taylor Tatsch, Oil Boom, Jake Paleschic, and the over night sensation, Leon Bridges, out there taking over the world with Fort Worth on his back. And of course my buddies in Chucho.
Summer and fall plans for The Longshots?
Joey: July 31 is the official physical release party for the 7" in our home town of Fort Worth! The video for Mucho Mango some press stuff at CMJ – planning some west coast mayhem atm but set closer to fall, mainly kicking ass at whatever shows we secretly have end up tossed our and we are looking to be in Europe by early spring 2016. this is the longest we've gone without repacking for another gig and its only been like 2 weeks lol. so yeah lots of stuff a bunch of other bands would say PLUS the time to think about DOING it differently.
Brady: Meat, Beer, Meat, Beer, finish the next full length. Edibles. Sleep. Aloe Vera, Shows.
Any parting wise words of wisdom y'all can leave us with?
Joey: Don't stop questioning what is continually thrown at you. It's okay to think for yourself!
Your healthy diet means nothing if you've already taken the blue pill.
also – take no prisoners, you only YOLO once.
Brady: The mystery juice is free.
…I think Luther's asleep…
Zobel: Sticks and stones, they break my bones, but pearls could never quench my thirst for love baby.
I stopped the fish from swimming…just so I could breath again.
The Longshots' Mucho Mango 7″ is available now from Mock Records.
Blossom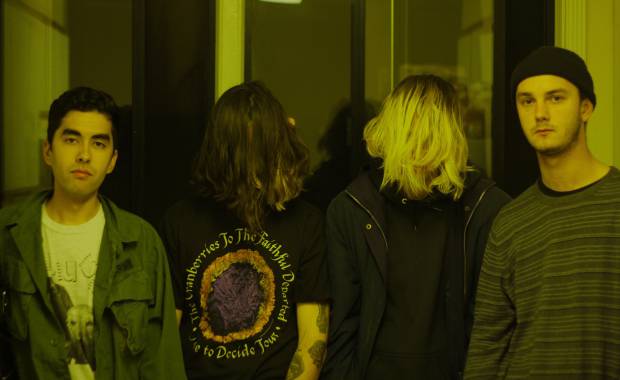 Meet San Francisco's Blossom who follows up their 2014 self-titled debut with a listen to their just released Weirdspell that trades in the daisy chain of "Spring Flowers" for some heavier voltage, and deeper expanses of sound. Dylan Lockey and Sinclair Riley of PLUSH were kind enough to introduce us to Blossom's four horsemen Brian, Jacob, Jay, and Ryan who walked us through the weird and wild of Weirdspell that wraps up the feelings and states of life's emotional and mental shifts in a deep circling sew swelling like the all encompassing sensory feeling flood of a dream.
The strange spell of Weirdspell begins with the slow boil simmer of "Nobody" that paints an icy portrait of twenty-first century destitution. The attitudes from isolation and sad states of mind pour tears and left over unrequited extras onto a slow burning bonfire that copes with heart-crushed manners by scuzzy-ing up the chords as much as possible with blazing fire ball crashing percussion that keeps everything melodic (no matter how much distortion is applied and amplified). "Waiting for the sake of waiting" turns the tedium of the day into a noon daydream nap on "Bloomer" that builds toward a blooming plume arc of sound that steps on all the right pedals that fires every struck electric string out like audio metal shreds of confetti. This brings you to the album's title track, worthy and warranting of multiple listens as Blossom finds a catchy power hook progression to run with that provides a kind of a reassuring sound wave of comfort that makes the nerve wracking journeys and tribulations of the world feel more like an amusement park ride. "Gemini" connects the constellation dots on the astrological scales of slow burning sounds right before the rivers of Weirdspell steer you to the closing chapter of "I Want To Believe" that drifts like a haunted and heavy boat ride into the spooky underworld that seeks something real, and warm to believe in again. Right after the listen, check out our roundtable interview with Blossom's Brian, Jacob, Jay, and Ryan.
Tell us about the weirdness that inspired this both heavy and ethereal wondrous paradox that is Weirdspell, both the title track, and the entire cycle surrounding it.
Brian: The tracks on the record are really a reflection of insecurities and qualms about the last couple years. Most of the songs are about relationships with people that have fallen apart, but in all reality it's just about a battle with a mental state, which is where I think the weirdness in Weirdspell comes from. It's essentially just wrapping up a weird feeling that has been hanging around.
What was the process of writing and recording this like? Feels like there is some kind of intent placed behind every song.
Jacob: As far as writing goes, Brian and I usually show each other a riff or two, and then we take them to Jay and Ryan at band practice to flesh out a whole song. To me, the album is really circular in that it's like a dream. It takes you through different emotions and alternates a lot between highs and lows. It rides the heavy rhythms into the softer parts that allow a mental break.
Brian: Writing for us is somewhat lucky and in many ways chaotic, especially because we all constantly change our minds about whether we like songs or not. Recording the record was really awesome though! The process of recording live felt really raw and natural cause it just felt like we were at band practice. Evan at Dead Oak Studios made things really relaxed for us too, so that was cool. With every song there is definitely intent. We wanted our songs to be the perfect mix of heaviness and pretty melodies so that we could best show that we like pretty stuff but we still listen to heavy metal. This way our parents don't give up after one song, My dad texted me the other day to say that he liked the record, I guess that means we did something right.
Ryan: It's nice to finally have recordings of the songs we've been playing for the last few months. We were really able to narrow down what songs we liked best for the record, and I think that helped us figure out what direction we want to go in the future. Shouts out to Evan for doing his thing!
What do you find exciting these days in the Bay Area?
Brian: There's so much cool music being made out here right now its crazy, so that's pretty exciting. Honestly though I'm just really excited to write new music and play shows with our friends.
Jay: The impending inevitability of a super massive earthquake sending us crumbling into the void.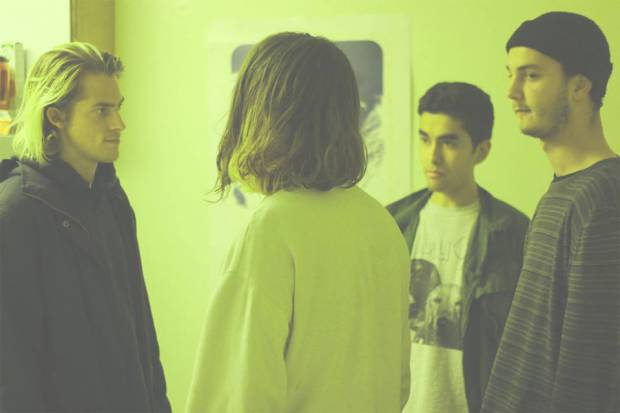 Artists and others you want to give a shout out to?
Brian: As far as bands go: Plush, Pardoner (aka the best band in the world), Labor Temple, Moms, JF Crew, Eastern Bakery, Happy Diving, Idlehands, Wear. Also shout outs to my parents, my brother Matt, and the rest of my family, Evan Nolen, Ryan Whelan, Courtney Yung, Lewis Gallardo, Johnny O' Hagan.
Jacob: Plush and Pardoner fam (again), and all the SB homies who let me sleep on their couches for a year and supported me in quitting my job to go sleep on another couch. Mom, Dad, Blaze, and Chesterfield.
Ryan: All the bands listed above plus my parents, my sister Megan, Luke Haeger, and Brian's roommates for putting up with our noise.
Summer and fall advice from Blossom that we all should hear/know about?
Brian: Support local bands, go outside.
Jacob: Tip your servers at least 20% (so I don't go hungry + beer)
Blossom's Weirdspell is available now via Bandcamp.
Sunshine Faces
We caught the Sunshine Faces fever last March when the Chapel Hill, North Carolina group of Noah Rawlings, Nick Chupka, Austin Kirley, John Santos, and Teddy Wilson struck our heart strings and mind chords with the impressive album Letting You Know from Little L Records and now present the debut of mind crashing tides of "Sing Yourself to Sleep" that features vocal contributions from Emily Yacina. The result of the recent directions showcases Sunshine Faces moving toward layering together a denser sound that slows things down to show you an intricate ripping arrangement of everything that mesmerizes your being. Treading sonic territory heard from the influences of Noah and company's creative Asheville counterparts, formal connections and contemporaries; the water splash/lightning clasp pop illustrates aspects of a forthcoming fall album available in September.
In the same way that cover art lathes the image of John Denver on mixed media; Sunshine Faces with contributions from Emily Yacina create a complete sound that blends together with American primitive nature of an arts and crafts afternoon gathering. The way "Sing Yourself To Sleep" rises and falls like the high and low sea tides that fluctuate depending on lunar forces and weather cycles. The act and art of being gently rocked to a state of rest is heard at the way the note tempo rocks back, forth, to, and fro into the formation cognitive waves of brain activity that softly fall to a downy pillow lull. The guitars and keys twinkle and shine like key the reflection of sun and moon light shedding rays of light upon the cellophane surface of warm viscous waters. Read our interview with Sunshine Faces' Noah Rawlings right after the following debut.
What for you initiated the process of working on your upcoming album, Peaked?
There was a significant gap between recording the first LP and its actual release, during which I was meeting a lot of new people, missing a lot of old people, exploring a lot of unfamiliar art/music/books, and just feeling generally motivated to work on music. The writing and recording of the album occurred much more naturally than anything I'd worked on before and I feel like I had a strongly oriented vision of what I wanted Peaked to sound like while I was working on it.
The slow-mo sunrise of "Sing Yourself to Sleep" is such a beautiful, sleepy, parabola shaped diamond of a song?
Thank you! It was recorded and written during finals week, which was a really terrible time to be preoccupied with music. I would be trying to study and I'd just get jittery thinking about the song. I couldn't really concentrate until I finished it.
Your voice and Emily Yacina's sound great together. Do you two have other tracks, and collaborations in the works?
A few weeks after it was finished I randomly began thinking that Emily's voice would be perfect for it (she sings much better than I). I definitely hope to work with her more in the future, but we're not working on anything in particular at the moment. However, we're playing a show together on July 27 at Palisades in Brooklyn, which I'm very excited about.
It's cool to hear how your sounds have grown to more sonic degrees since your "Teenage Prayer" single. What are you thoughts on the dynamics, and progress of your own work?
I think that I've grown a bit more comfortable in the recording/production process, which has informed what I think is a more dynamic sound.Whereas Letting You Know was recorded over an extended time period, the new LP was written and produced in a much more concentrated and cohesive manner. I was aiming for something a bit more compact, focused, and poppy. The songs on this record relate to each other in a more natural way, I think, than the first record. I wanted the "sonic palate" (lol) to still vary between tracks, but I wanted the ordering and progression and the album to make more sense, to be more coherent, than Letting You Know.
Latest happenings and local shout outs you want to give to the Chapel Hill scenes?
JC GRAVES, NC wonder boy, is working on a rock opera ( so the rumors go). Keep yr eyes peeled.
Jonathan Sibha
Bringing a taste of the Minnesota winter cold, we first introduced you to Jonathan Sibha's with the opening track "the shining" from their new album secretlovers and now present the premiere of the entire album streaming in full. The places of pain, solitude, and the moments where the heart feels both captured and free come forth in the surface calm of an endless winter, and a case of cabin fever.
The opening track "theshining" basks in the ennui of watching television in-doors while the snow piles up all around, as "maria" brings the romantic notions into the chorus collection of vocals and subtle evocative electronics that intrigue and entice in original ways before unheard. Perspective shifts between characters, commitments and more intertwine on "goodwife" that paints a picture of loyalty and fidelity like real life unfolding with the television on in the background. The winter winds and elements bury the cabin covered heart of the paino lead "fargo", right before "harold" leads those keys into the sound of a musical rapture that concludes with the lightly melodic clink and clank of lonely wind chime bells. Then you are led on the long blizzard-saturated slow walk of "thoughti" that carries a burdens like a funereal procession making route to a pyre, before leaving you with the love ballad benediction of "mybody" that bottles up memories, beliefs, painful nostalgia, and more in a beautiful blend of restrained strings and sentiments that echo long after secretlovers has commenced.
Jonathan lent the following thoughts on the making of secretlovers and more:
One of the largest lessons we learned up in Minnesota was that October is not fall, it's winter. We spent a little less time outside and a little more time with the wood stove. This definitely slowed down the recording since it became difficult to record in a 30 degree barn when the sun went down.
However, since it was cold it gave us a great reason to experiment with the wood stove and see what else creates a great source of heat other than wood. We will be playing over at Palisades in Brooklyn, NY on July 15. We are currently recording a new EP to come out this fall and we will be playing some shows in New York and New England. Shout out to granny,

Jonathan
Rev Gusto
Kansas City's Rev Gusto are working on the debut album Burnt Out Friends for release this summer via High Dive Records and provided us with a debut sneak peak with the premiere of angular jangle strumming, "Shoot The Messenger". Lead by Jerry Frederick who was tutored in the techniques of songwriting from Ray Davies of the Kinks; Rev Gusto continues to strike up catchy chords and peppy vignettes as they work on the follow up from their 2012 self-titled EP. Trading green village preservationist societies for KC based pop parables, Jerry (guitar/vocals), Peter Beatty (guitar/keys), Quinn Hernandez (drums), Sam Frederick (bass), and Shaun Crowley (guitar) caught up with us in a roundtable discussion about the Montana scenes, the upcoming album, and the motifs of decorum that informed the new single.
"Shoot The Messenger" takes off on Shaun's chunky baseline right before Jerry begins his song of embarrassing situations, suspicious minds, awkward conversations, and clueless pretty people. The rock craft that Rev Gusto sports takes on a kind of bent modern rock act that kicks out jams that dumps the doo-wop for mod rebel reeling chords that place the quintessential 'put-down' style song on a pedestal that is reinforced by the airplane turbine rhythm guitars. After the following debut listen, read our interview with Jerry, Peter, Quinn, Sam, and Shaun from Rev Gusto.
Give us a snap shot of what the scenes in Kansas City, MO are like, and who and what are you guys all excited about locally right now?
Peter: We love and are very excited about the KC music scene is right now! There are so many great, young bands in this city who have the talent to play alongside the best the nation has to offer.
The local scene is intimate but there are new bands popping up faster than we can keep up with (which is great!). Kansas City loves punk and more grungy-rock acts, so we like to add some grit to our sound for live shows.
We consider ourselves lucky enough to be signed to our favorite label music-wise. We were huge fans of our now label-mates Shy Boys, the ACB's, and Fourth of July long before we were on the label, so making this record with High Dive was an amazing opportunity for us.
Tell us how you were able to study songwriting with the legendary Ray Davies.
Jerry: Through the Arvon Art Institute Ray Davies and other song writers give courses once a year or every few years, I submitted my songs and I was accepted. I learned a lot in a week and a half.
How did this tutelage from the iconic Kinks member impact the sound of Rev Gusto as a whole?
Jerry: It made me more aware of the structures of pop songwriting, and made me love it. Also taught me to look from other peoples' perspective more in the songwriting process. (Jerry Frederick Guitar/Vocals)
Tell us about what the process of writing, and recording Burnt Out Friends.
Peter: A few of the songs on the album including "Click-Click" and "Shoot the Messenger" were written by Jerry, our primary singer/songwriter when he was in high school. This was when the band was just himself and his brother, our current bassist Sam, who played drums at the time.
As for the rest of the album, once we started playing with our current lineup back in 2011, Jerry would come to the band with lyrics and basic chord structure and we would play and tweak the song until we were happy with the sound. Our goal with these songs was always to include it in our live shows, which for us is probably our favorite aspect of the musical process.
The recording process was done over the course of three years from 2012-2014 at Element Recording Studio in KC. We primarily recorded five songs on our EP in 2012, three of which are on the album. We recorded two more songs in 2013 along with our 7″ record Still There in hopes that these songs would help us get closer to releasing a full length LP.
We finally had the push needed to finish the last three songs in 2014, Once we were signed to High Dive Records. It was a very long process but we couldn't be happier with the result. We like to think of the album as a sort of compilation of songs that we love playing in our live sets. They are songs that we hope convey the same atmosphere we like to give off at live gigs.
What real life stories inspired it, and tell us about how you all have parlayed the act of burning out into an art?
Jerry: We really enjoy being from a smaller mid-western city. We love its low cost of living but are aware of its limits. Lack of Resource and monies makes it relatively difficult to get a dream or project off the ground. You can end up having a lot of time to kill.
What's the story behind "Shoot The Messenger"?
Quinn: The unfortunate consequence of life where you have to be very careful about what you say and do for fear of judgement.
What else are you all working on?
Booking a tour, writing new songs, and trying to be the first band to play in space.
Shaun: We've also been hosting a lot of house shows. We're putting on a house festival called Manor Fest featuring really good local talent. We've been having these shows for almost a year now.
Favorite top three things you have heard, seen, or read lately?
Jerry: Saw Jonathan Richman at the Recordbar, he's musical Prozac.
Sam: Made friends with several cats.
Peter: The Novel Infinite Jest.
Collin Thibodeauxx
Hear the unhinged lo-fi fun deluxe of "Tame" from Collin Thibodeauxx's debut EP titled nothing buttrock available on cassette at the end of July from Citrus City Records. The in-between corners and sections of feelings are put on full display with a fuzzy blanket filter lens that maintains a home-brewed vibe that creates a confessional vignette compressed into a pop gem designed for future generations to obsess over. Read our interview after the jump.
Describe for us what excites you about the environments and scenes of Richmond, Virginia.
I've only lived there for about a year now but I can easily say Richmond is a city with a lot of character. There's a few really neat house venues and show spaces that keep the local music interesting. I also love how diverse and accepting the city is, especially within the DIY music scene.
You seem to have made a very niche kind of sound here on nothing buttrock. Describe the sessions that made up this EP for you.
Most recording sessions happened in my bedroom in Richmond. I had all the songs written beforehand but would often times get ready to lay a guitar track down and find a new riff that I wanted to include in a song or something and completely rework it; I'm really indecisive and anal about my recording process. Beyond that, I'm just glad that my four housemates put up with my nightly post-midnight shrieking into the microphone. But I actually didn't finish recording the EP until I moved back to my parents' house in Northern Virginia this month, just cause I'm a lazy asshole. I don't really like recording in my room there, but oh well.
What tame, and not so tame inspirations gave life to "Tame"?
I had a few tipsy escapades this past semester that comprise the theme of "Tame"; it's basically just about getting drunk and emotional over some girl that I can't get. Like most of my music, I like to talk about failed relationships and shit like that, but usually from a much more adolescent standpoint. When you're that age, emotions are always heightened and dramatized, and everybody seems like a hopeless romantic. Makes for some good lyrics.
What are you listening to right now?
Gucci Mane, Sports Coach, a lot of the Melvins.
What is currently driving you with your own sounds, and inspirations?
Smoking weed and getting my hopes and dreams crushed by chicks.
Lizzy Mercier Descloux
We reported earlier that Light in the Attic is repressing the multi-talented French by NYC punk-art-pop-icon Lizzy Mercier Descloux's Press Color album August 14, and today we are proud to present insights from ZE Records' Michel Esteban on the re-release who originally released on the aforementioned imprint back in 1979:
Listening again recently the new mastering of Lizzy's two first opus, the minimalist and subversive EP Rosa Yemen and Lizzy's debut album Press Color, both reissued on blue color vinyl, homage to Yves Klein that Lizzy was a fervent admirer. I realize how actually we were free. Free to produce such cultural UFO, free (sort of) of financial or artistic consideration and without any commercial constraints. I just thought it was important to release this kind of albums. More than 35 years later, this could be the reason that such records are still contemporary, their universality and timelessness perspective still find "à raison d'être» to a new generation who was not even born at that time. Also how these albums represent the sound of a time and a place transcended by the singularity of a talented artist like Lizzy. Which, in my humble point of view, is the definition of what any good album should be.
Rediscover Lizzy's radical Parisian world of kinetic poetry and motion with the dance step inspiring "Jim On The Move" off the upcoming Press Color reissue.
Swahili Blonde
Discover Swahili Blonde's "Discover Aurora" from her forthcoming album Deities in Decline available July 21 from Neurotic Yell Records that heralds with an eastern groove that traverses through electronic mystical corridors. The lands and dimensions of discovery break through from the sources of digital enhancements and electric amplification toward metaphysical and spiritual tributaries unknown that reach beyond the river Styx and other mystical places. Nicole Turley of SB described the EP as a survey of idolizing those whom we most adore:
Whether they love us or hurt us, they become our gods, we build these beautiful temples for them, but because of the delusional energy, it must all come crashing down. For our own good. The tarot Tower card was a big inspiration. It's a decline of delusional power and the harm it causes us and the ones we love.
Shelf Life
Philadelphia's Shelf Life dropped the single "The Curse" found off the debut album Everyone Make Happy available September 18 from Lefse Records where the track contemplates the struggles, strangeness, and scaring places that over-active imaginations can take you to if you stare at anything for too long. From the eyes of animals to the unsettling glances set to a mirror that can bring out some of the darker aspects of reflections that often disturb even the soundest of minds toward unsettled territories and grounds. "The Curse" is heavy, powerful, and wonderful in it's honesty of taking the listener on a journey toward those intimate and unsettling paths that musing on anything for too long can bring.
Scotty Leitch of Shelf Life gave us an exclusive sneak peek into the making of the new album where describes his basement as a "dark dungeon of wonders" where half the album was made, a living room that Scotty likens to a "darker Pee Wee's Playhouse," and more oddities and insights of interest.
"The Curse" is such a heavy, personal confessional of a lot of internal observations expressed in a very honest manner. What for you inspired this song?
I finally found someone who was willing and able to comfort me, regardless of my faults. It's an amazing feeling but I'm constantly in a state of reflection. "The Curse" is spending your day wondering why and if this person will continue their efforts.
What was the process of making Everyone Make Happy like for you? And what were some of the happy moments, and sad moments during the writing and recording phases?
The basement of my house is a dark dungeon of wonders. It's difficult to breathe down there and the ceiling is low. I have a scar from knocking my head on the HVAC. I wrote and recorded half of Everyone Make Happy underground. The other half was done in the living room while my housemates were at the bar. The walls are covered in art. The ceilings are 10 feet high. There's a mounted elk covered in toy guns and fancy hats. Imagine a darker Pee Wee's Playhouse. I enjoy that room more.
I'm in a constant state of euphoria while writing and recording but am powerless to emote even a shrapnel of that feeling. I am the happiest statue.
What have you heard/seen/read lately that has changed your life?
I heard my brother say in a song "God, I hope I'm just changing for the best." Everything my life coach Justin Blackburn says.
Shelf Life plans for the rest of the year?
I'm going to spend the rest of 2015 molding the greatest rock band of all time. I want a Shelf Life concert to be entertaining to the max. I'll finish another record as well.
t e e n e n d e r
Boston brothes Brian and Chris McKenna are t e e n e n d e r who recently released their self-titled EP that brings an assortment of smooth synth inflected sensations set for long bike rides, hikes, workout routines, and perfect for a host of all kinds of action activities. Check and balances are documented, dotted, and knocked off a bucket list on "c h e c k s+c r o s s e s", taken it to the evening essence of soundtrack style sorts on "n i t e t r a p", right before "n o h e a d r u s h" brings the buzz that gives you the body high without the rush of blood boiling straight to the brain. The rumbling-tumbling bass synth of "b a d a n g e l" boasts a tale of aberrated angels without a cause, right before you are left with the Bearstronaut remix of "n i t e t r a p" that appears courtesy of Paul Lamontagne with glittering keyboard sparkles and sentiments of a night that could last for all time.
On making the album:
T e e n e n d e r started from a bedroom recording project we had for fun called VideoTeeth.. we threw a band together and started playing live shows, which got us writing more full band style songs but still with an electronic feel! the recordings came together really quickly after writing the songs.
On the aesthetic choice of using spaces:
As for the spaces.. haha, I guess it started from our love for Prince and what he does with his song titles… sets it apart a little from the norm!"
Crowd
Knoxville's Gabriel White dropped us a line to introduce us to his new band Crowd, where we get two new grooves to compliment the heat waves of these long summer days. "Couldn't Look Away" takes a vintage lo-fi-ish lens where the things that grab and distract our attention take a center stage with an arrangement that sounds like a rock and roll lounge happening that combines crooning and subtle psych atmospheres. The departures of holidays and loves going away and being introduced are combined in the earth and mind wandering tune that is spun through the haze of chords that kick up a haze and mirage portraits of beauty that the appointed offseason was intended for enjoying.
Our good buddy Gabriel was kind enough to write us this exclusive introduction to his new band; Crowds:
Our band called Crowd started almost two years ago as a side project/outlet to get together and write songs. Dylan Dawkins (Persona La Ave, Royal Bangs) and I have been friends for a few years and have always had fun playing guitar or whatever together, and Justin Haskell is good friend who I met back in community college. Dylan, Justin, and I (Gabriel) jammed together for the first time at a low-key party two summers ago. Shortly after, we met up weekly just to play tunes and make up simple/melodic songs.

The ever steady Clay Farris tracked the drums on Couldn't Look Away/Honey and played a handful of live shows. My brother Judah White has been having a lot of fun playing drums recently, and he currently holds the role of king to the drum throne.

We started tracking for a full-length back in March without necessarily worrying about a release date until we have a polished album. These singles are a taste of the guitar-pop music we grew up learning, and are a good introduction to a lengthier release. These two songs have almost always been on point when played live so they make for a delicious first bite of our tunes. The band is built off of being a live group, and that's where our sound shines best. We have a wide variety of tracks to piece together for the best representation of our band. More music is to be released in the near future and whose to knows what will become of it.

It's summertime and we're just trying to stay cool.

– Gabriel
Sonic Hearts Foundation
Scotland's Sonic Hearts Foundation released the Ant Dinham video for "Godspeed" from their forthcoming EP, The Light Of The Future Sun. The camera is followed by a dancing maiden who enacts the throes of emotion attitudes expressed in the song that run through the motions of hope, desperation, and the odysseys and actions of universal familiarity. In a Snow White-like dress, our heroine runs the narrow road along the countryside that meets the song's overwhelming accumulation of anxieties and depths of discontinuities with a 'road of life' analogous metaphor scheme that illustrates how the world, history, and the dance still goes on despite all the odds.
"Godspeed" is a song of ours which went through many incarnations before we finally settled on the finished version. We paid real attention to detail as we wanted the result to meet our vision head on.

Structurally we wanted to create something which transcended the listener through a whirlwind journey and which was empathetic and reflective of the lyrical contents of hope, desperation, and the odysseys we all go through.

Sonically we were really just inspired by one another while locked away in our rehearsal room experimenting with sounds. Couple that with a subconscious influence in channeling the energy of Sigur Ros in an attempt to create something of our own with an equal sense of drama.

This is a similar tone which informed much of the creation of our EP The Light of the Future Sun. I think we set about creating something that was densely constructed and quite abrasive by nature. Much of the lyrical content has been influence by history, be it either the cold war and the Berlin Wall or the Roman Empire, but hopefully not from the angle of a nostalgic or commentarial position, but more to do with its influence on modern humanity and the world today.

'Hope' seems to have been the overarching theme of the EP which led to the decision to give the EP the title we did.
Alge
LA's Jon Weinman has been on something of a prolific kick lately as our coverage continues of the producer/artist with the fascinating stunner "My Daughter's Living Room". The artist that has given us the head raising "Spirit of St. Louis", & "Truth or Diamonds" continues to experiment upon his own electro mastered blues and rhythm design patterns through newer filters where the lyrical moments captured are given living rooms of the future with adequate windows and portals to the outside world to let digital beams of sunlight in. After the listen, read our recent discussion with Alge's Jon Weinmann to discuss influences, process, thought reflections, and more.
What moments and reflections on family inspired this forward underwater funk beat deluxe pop jam?
That's quite the description for the track, I'm with it. The song is definitely inspired by my family, but it is more about the essence of what family is, which to me, is this sort of transcendent, absolute love and light and bond that exists outside the confines of time or generations. The line, 'We'll wait until the switch flips and we can be like dust radiating in a beam of sunlight in my daughter's living room,' is actually a spiritual meditation on the afterlife. When the switch flips, we can leave our bodies and become one with those dust particles suspended in the rays of sun, everywhere all at once, always present in the warm blue light of our loved ones.
My grandma, who was a complete giant of a human being, taught me a lot about life and learning. She inspired me endlessly while she was here, but she also managed to teach me some equally important lessons on her way out about dignity and acceptance and belief. When I write songs, my spark comes while I am in an altered, meditative state of consciousness. My body becomes a vessel and I am no longer thinking, simply receiving and translating something external. On this song in particular, I definitely felt the warmth and vastness and timelessness of that maternal life force guiding me as the track came to life, and I am really grateful for that. The song is sort of characterized by this longing that I think a lot of us feel, this urge to take our rightful place and to become truly and seamlessly part of the collective. We walk around in these crowded cities bumping up against one another with our autonomous bodies, lost in the rabbit hole of our own heads and fighting with the specters of own problems. We are constantly forgetting that we are all simply unique expressions of a singular energy, a singular idea and life force. This song is a reminder.
Feels like your production continues to find more and more layers of complex dimensions. Tell us about what new things you have been working with specs & instrument tech wise.
I am definitely trying to grow and develop thematically from track to track, but my production process hasn't changed much. I work in Ableton and a big part of my sound is re-sampling myself, recording analog synthesizers, guitars and live percussion and re-purposing them into something a bit more mediated and hyper-real. But for me, it all starts with the song first and foremost. My first single, "The Spirit of St. Louis", which came out earlier this year, is very minimal and somber, and with each single, I've been trying to up the ante production-wise and kind of build some more ornate and jubilant soundscapes on top of that darker, meditative foundation.
What is the summer report? Activities, events, plans?
Over the next few weeks we are filming a video for My Daughter's Living Room, which I am very excited about. Being on set is an incredible experience, and I am privileged to be working on it with some truly dedicated and visionary people. The video, along with a debut EP called Diamond Inseams will be out around mid- August. I am also going to spend the next few months perfecting my live show, and I am hoping to make my live debut in LA in September.
What sorts of new media these days has been inspiring you?

My primary inspiration has always been visual media, and a lot of my music is a sonic interpretation of a physical space. Lately, my biggest inspiration has been just walking and skating around Los Angeles, listening to music and taking in my surroundings.
Watching movies is also a big part of my production process, and a lot of my songs are integrally tied to certain moods, colors and themes from specific films. My second single, "Truth or Diamonds", which came out back in February, is heavily influenced by Eyes Wide Shut, for example. While I was finishing "My Daughter's Living Room", I watched Interstellar more than a few times. Movies are an influential medium for me because so often, the great ones are an encapsulation of this singular vision, straight from the voice and soul of an auteur, but teased out into a fully immersive reality. This is world-building at its most pure.
The Perfumes
Kevin Moxcey frontman of The Perfumes has a debut EP available this fall, and we have a listen to his Monte Vallier produced power fuzz pop of "Irene" that rips alt rocking essence from the shredded denim 90s hero sets. Southern sensibilities of garage pop traverses toward midwest grunge backwoods while still retaining a sense of the warm California sense of sun. Kevin caught up with his to enlighten us with thoughts on his music for The Perfumes, songs written since 2010, working with Monte Vallier on assisting and developing them to the realized arrangements heard on "Irene" and more:
I think that working in isolation, as I have, for such an extended amount of time can be a real double edged sword. On one hand I could develop and fine tune a creative vision, free from distraction and pressure. On the other hand, I tend to overanalyze everything to death and lose sight of what's good and what sucks. At a certain point, you have to finish something. That's where working with Monte Vallier is the best thing I've ever done. I know the records he's made and I like them. This allowed me to put complete trust in his skills and decision making while freeing up my own mind to focus on the song and performance under his direction. From the very first meeting we held about the project, I could see that he 'got' me and what I was attempting. To be able to trust another person in collaboration is very cool and something I had prevented myself from experiencing for some time. He approaches his work and his studio in such a ritualistic way, similar to my own methods, but with a huge advantage experience and knowledge-wise. The demos I brought him, although pretty labored over and thought out, were scrappy and lacking cohesion. Monte is the glue that holds this together. Or better yet, he's the scent that keeps The Perfumes from stinking.
Elika, Brooklyn's Evagelia Maravelias, Brian Wenckebach with Mahogany's Khaya Lou and Andrew Kwasny present the single "Closer" that takes you on an intimate journey toward the closely held experiences and honesty of bond's past and their continued meaning in the present. The b-side "Watch Over Me" asks for a kind of cover that seeks a fellow kindred heart to stand tall amid the vulnerably uncertainties of environments, situations, and circumstances that life sends from any and all directions. Find this trilogy completing single Girls, Be Serious available July 10 from Saint Marie Records.
In more Saint Marie label news — UK band Presents for Sally bring a listen to their title track "Wishawaytoday", available July 17 with a sound that acts as if the 90s dream decade never lost the vision. The cares of the day are wished away and thrown to the breeze like uptight caution to the wind, while the b-side "Hits Like Kisses" sneaks up in what is at first a subdued slow strumming track that breaks into an ecstatic glory that has to be heard to be understood.
Youth Worship, the new labor of love from James Hanna (formerly of Asobi Seksu) gives us a a listen to LP1 available now from Self-Harm Records. With a Brooklyn album release show happening July 11 at The Acheron; we encourage you to live your favorite underground 90s moments as if they never happened in the first place until now with the school skipping scuzz and buzz of "Spinners", the SST vintage break neck vibes of "Triggers", the seasons of hell on "No Summer", to the thrash and trash fun with Boris's Wata on "Eternal Scene", and Atsuo of Boris on the shred-fest fantasy re-animating "Come Alive", all way to the noise blaze du jour of the closing "Euphoric Recall".
Detroit's Finale will release his new album Odds & Ends August 14 on Mello Music Group, and you can hear the latest since the cut A Pipedream And A Promise with the overdue "Just Due" produced by Oddisee that features Homeboy Sandman & Miz Korona. Oddisee keeps the back beat, synths, and keys fluxing between the fidelity time ports where the Motor City emcee and friends share underdog stories about that basic need for human validations that grows like an increased feeling of hunger pangs that desires the things that proper compensations and just recognition can bring.
More from the Friendzone camp under the Chlorine Mist moniker, check out "Last Night" that provides 20/20 audio vision for a night of romance, and genuine reflection that takes days, weeks, and months to digest through the intimate discourse that friends have about love, the future, the past, and the million morning-afters of emptiness.
Mark McGuire aka The Roach Chief is readying his debut album All My Love for release August 21 from Cascine. The chosen moniker heralds a history dating back to 2008 when Mark used it as a DJ name as part tribute to Roger Troutman and for endeavors apart from his Dead Oceans solo output. Synths shimmer in mathematical like sequences and glimmer from a work that created contemporaneous as McGuire worked on a film score in LA, further adding characterization and thematic touches to the instrumental's brilliant audio luster. Reflecting back, Mark McGuire had this to say about the behind the scenes making of this album:
While we would work, I'd get little breaks during the day and just drive around North Hollywood smoking weed and listening to the early mixes of the tracks. Those days for me were all about bright, sunny midday vibes, glass sparkling water bottles, coconut milk shampoo, sunscreen smells, the leather interior of the car getting hot in the sun…glimpses like that.
The artist formerly known as Lee Bannon dropped the Jacob Wayler and Nick Briggs visuals for "DAW in the Sky for Pigs" and "Disney Girls," that features Scout Willis Pattern of Excel available July 10 from Ninja Tune. The atmospheres from Mr. Bannon's recent works are given road trip mind wandering motions, and neon metro visuals that highlight the bright tones from the prolific artist's new directional forays of audio developments.
Introducing the cool vocal stylings of Jendayi Bonds of Charlie Belle where she performs with her brother Gyasi Bonds who shared the jangle-town lounge of "Petting Zoo", taken from their forthcoming I Don't Want To Be Alone available September 18. The "nobody knows me like I do" refrain lifts spirits out of the humdrum day to day grind that finds some time to enjoy the freedom of the self beneath the warm beams of a holiday season sun.
Jesse R. Berlin dropped the single "Wash Your Boat!" from the August 4 slated album, Glitter Lung. The decades of electro fusions bring disco ball dreams down from the ceiling and crashing in a mirrored glass splash on the dance floor. Vocoded voices emerge, keys swarm and spiral, while the mode remains between madness and a creative course of constant four quarter drum beats that maintain a motivation in the heart throughout. Find Jesse touring July 11 through September 11, that involves an album release show in Brooklyn at Standard Toykraft (a puppet theater).
UK by LA producer Beatnick Dee released his album Creative Medicine this week, and we give you "Thicker Than Blood" that features People Under The Stair's Thes One that shares some real life stories to inspire proactive behaviors of "hit record and never press play" over a cerebral summer sound blend.
Sweden's Last Night on Earth aka LNOE, is Marilyn on vocals and Albin on production and we have the hyper-ballad video for "Leaving Cities (Carry Me Home)" that dazzles with designs of city streets and evening lights accelerated into speed that hearts in unison sometimes fall together.
Brighton's Stuart Newman recently dropped the new single "Love's Off the Hook" that strums some sentiments about love on the line and the discourse of courting between the crossed wired lines of communications and disconnection in a restrained power pop mode of operation.
Greaver and has signed to Cardigan Records, and we have your listen to the emotive lamp lighting of "Lanterns", to sky storm angst-core anger sesh of "Our Troubled Skies area Pale Red".
Jake One lends his own twist to Vursatyl's "Bring It To A Halt" off V's recent album Crooked Straights, where Jake shines some light with subdued samples and liberal turntablist maneuvers to toast one of hip hop's self-made vets.
From The Body, hear the new single "Manjacked" that blends romantic rhythms and blues into the electric digital production waters that ponders the ways of interpersonal amour and more.
Following up the wistful pop single "Seventeen", Jay Nemeyer of Color Palette returns with "Heartless" with more electro artifices that play on issues of the heart. Issues of reciprocated/unreciprocated requited and unrequited manners of emotions and affections running wild run their course across Color Palette's own illustrious sequence of synths where conversations and cadences of likeness and love collides, diverse, explode, and implode like erratic hearts on fire.
Group Tightener released Dan Svizeny's Whitecaps this week, and we have a listen to the distortion imbued idle dissonance of sweet power hook chords beneath the muck on "Still Time To Change The Road You're On".
Hear Monika's synth-sational fidelity-fuck of "Stripping", from Secret in the Dark available October 2 from Other Music Recording Co. Reserve for this for those isolated nights of torment, or share in intimate ways with a trusted love one in carnal ways untold.
Minneapolis's Bad Bad Hats bring the tough, and confrontational sincere pop with "Fight Song" where Kerry Alexander puts her dukes up in the face of all adversity in the title refrain from their debut full-length, Psychic Reader available July 17 from Afternoon Records.
Marco Vella and Kyle Jorgensen's collaborative album Shadow Mountain will be available the world over August 14 from Average Negative, but we have your instant access to "Why" that illuminates the pensive synth path with a chorus that will brighten even the most dense and impenetrable sun fall of perpetual night.
Toronto's Safe To Say delivered us some of that angst core season of allergic reactions and tough attitude responses with "Summer Sickness" from their upcoming Hiding Games available July 17 on digital and Friday July 31 from New Damage Records in Canada and SideOneDummy everywhere else.
Witness the soundscapes and mind-imagined landscapes that unfurl before your eyes and consciousness on Modern Merchant's "Bucolic", that lives up to it's name and stirs a sense of worlds that could only exist by the physical-earthy sciences of sound (featuring production from David Groener Jr.). Keep yours ears peeled for more to come from the Brooklyn band.
To accompany the flare of your fourth of July sparklers, check out Brooklyn's "Life Between The Groove" that provides some dance floor fodder that provides some unusual twists and turns for your own ballroom blitzes. The big radio pop bursts in the maximalist manner that uses the clearest isolation of each combined sound for maximum impact of punch. Hear "Life Between The Groove" en Español here.
Check out the holiday headed video for Jaill's "Getaway" that features drawings by Helen Groom Poser, shot by Eduard Poser from the band's new album Brain Cream available now from Burger Records. Find the gang on tour July 9-16 sharing their jangle garage sound with the east coast and Midwest.
William Alexander released the Come Find Me EP this week on Yellow K Records, taking on "With A Girl Like You" in DIY lo-fi fashion, the muddy electro experimentation of the title cut, the strange idols pattern of "Souvenir", the generous lo-tech orchestral psych production on the ballad "You Can Take It", as the So-Cal artist closes it all out with the labyrinthine jammer "Maze".
Milwaukee's Light Music will release Ocean's Daughter August 21 via The Record Machine and you can dive into the sunshine bathed bliss found on the appealing air of "Petrichor".
Teen Daze delivered the trailer to spread the news of the forthcoming album Morning World available August 14 from Paper Bag Records. Here hints of baroque directions traverse across visuals of natural mountains, lakes, and trees to notes that find a certain second nature of harmony that hits the ears gingerly.
New Zealand is (arguably always has) become one of the independent pop culture Meccas (consider the recent Princess Chelsea album), and we give you the following Ryan Feilding video for the title track off Glass Vaults' upcoming album debut. Full of performance togetherness, and crowd collective joy; this is the video that will lift you from your funk and feel things that might have become dormant for a time. To hear Glass Vaults' Richard Larsen explain:
I bought a new guitar when was in New York. This was the first song I wrote on it, and it kind of just came out of it. I was listening to a lot of Paul Simon's Graceland at the time. I think I said at the time, this song is going to be my Graceland. We were on tour in New York and it was hot! The video was directed by Ryan Feilding, a New Zealand film maker currently living in Berlin. Sojourn video is a homage to Graceland, New Zealand summers and camp a low hum music festival at which parts if it were filmed
L'Orange & Kool Keith's upcoming collaborative album Time? Astonishing! will be available July 24 from Mello Music Group, and we got the LP cut "Twenty Fifty Three" that features Mr. Lif and takes you into Keith's strange sci-fi-like zones of the semi-sordid and ever surreal. Between L'Orange's production chops of lo-fi b-movie style soundtrack mastery provides a canvas for Keith's conscious streaming delivery that takes us back to those days between the opuses that changed our life with the memorable sick spitted debut of Dr. Octagonecologyst, and the pivotal concept tour de force of Deltron 3030.
From our favorite SF cousin duo Painted Palms, we bring you the synth tracing-lazer cut "Tracers" from the new album Horizons available September 4 from Polyvinyl. The two take you through the sound of future festivals, raves that rumble onward toward the morning dawn that are greeted by hundreds of couches, followed by a brunch cornucopia for dinner.
Take a little journey to the northern parts of Denmark where the origins of Myrkur unfurl before your eyes with the metallic clamor and clout of "Onde Børn" from Cille Hannibal & Olivia Frølich off the forthcoming album M available August 21 from Relapse.
Cut a rug and skank your way about the dance floor with the Prince Fatty produced Friends On Benefits EP from Brighton's The Meows Meows who kick it with classic ska-dance lounge styles on the introductory title track, the lost on "London Road" groove, to oddball clever word-play romp of "Tits & Hatred". Consider this for you next first, second, third, or whatever wave ska party you might be throwing.
UK's Them Things dropped the video for the psycho-nautical "Watch Astronauts" from their forthcoming album expected later this summer from L.O.O.S.E Music. Directed by Harry Jenkinson, the band of Louis Adams, Ilya Tarnopolskliy, Tom Ungerer and Jack Angus Golightly are joined by Alexandra Murzina in a visual kaleidoscope of effects overseen by Clive Wright that twists the 'Things heavy and hungry heart sound into prismatic series of moving optical illusions.
Naytronix (of local Bay Area legends tUnE-yArDs) lends us the title track from his forthcoming album Mister Divine available October 16 from City Slang. Nate Brenner brings his own school of experimental bass bastions toward a template of his own creation of his design that recreates a divinity that flows through a multitude of rhythmic channels, and pachinko machine-like kicks and switches that keeps the mind reeling long after the lo-fi essence fades to a close.
It is our civic duty and pleasure to tell you that Hollow Sunshine's Bring Gold is now officially available on 12″ vinyl from Iron Pier where you can experience in pure analog bliss the generous heavy weighted guitars that guide on "Careful Travel", that hang above your head like an intoxicated stumble down the hall on "Last Chamber", the golden never ending (that you never want to end) corral chorus pour of scuzz on the opener "Coral", to the cold and cozy curtain call on the closing piece "Companion". Hear now finally in analog what is a contender for one of the year's best releases.
Henric Claesson, guitarist from This Is Head released his video for the band's title track "Timmerdalen" off their Adrian Recordings LP of the same name, with a title that harkens to a sacred place located on the Swedish isle of Mjörn located north of Gothenburg. Gaining an intimate view into these sessions and fusions; the connective energy and synergy is displayed in like a vintage family film portrait where electric vibes are built, and inter-meshed with the others parallel line of non-linear progressions. The band wrote this on the making of the album, and insight into the sessions depicted in the following video:
During the summer of 2014 we decided it was time to record our third album. We'd already started sketching out rough ideas that February, during a few warm days in a cramped space in L.A. When the opportunity arose to borrow the house in Timmerdalen for a week, our thoughts began to wander. Could we go there and record a whole album? Take with us all our recording equipment, all our instruments, buy everything we'd need for our stay, work intensively and not leave until we'd recorded an album?

Well that's what we did. We wrote, recorded, rewrote, played and recorded some more, early till late, through warm afternoons into cool summer nights. When we left, we had made a record. Which we then compiled and mixed in our rehearsal space at Studio Möllan, Malmö. For us, this record is a document of an intense week of abundant creativity mixed with writer's block. A week of tired ears on stubborn heads and ultimately the crystallization of our ideas. That's how it was for us, for those of you listening perhaps it will be something else.
Yours,
This Is Head
Main Attrakionz's Week in Pop
Following up their exclusive track for track breakdown of 808s and Dark Grapes III, MondreM.A.N. & Squadda B present their Week in Pop guest selections:
R Kelly, "U Saved Me"
Green Ova Records and Squadda B presents: Robbie Rob and Animal "Truthfully" produced by Uptown Greg
A short documentary featuring Alex Powell a.k.a. Ace Diego, member of the San Francisco based hip-hop group SinSerious.
Follow Main Attrakionz's MondreM.A.N. & Squadda B on Twitter.