Let us briefly recap what the pop illuminati have been up to this week: Ben Gibbard discovered Ride and covered "Twisterella," Nicki Minaj joined the ranks of the "nip-slip" club on an episode of GMA last Monday, while Jay-Z and Kanye competed with Sigur Rós for blog buzz dominance. While there is never anything wrong with paying homage to previous artists and influences or competing with your fellow musicians, wardrobe malfunctions are the ultimate in PR boosts and tabloid cred. Still, we can't help but desire a little bit more from our alleged icons. So without further ado, let us examine what made this week worthwhile in no particular order.
In our ongoing coverage of Incase Room 205's artist in residency videos, we present to you OFF! performing with "Poison City" in what looks like a feral, forgotten hotel from the apocalypse. Kudos to Keith Morris and the gang.
Also, here is their Room 205 kick off with "Compared to What" off of First Four EPs.
From Moscow with strange love comes Wavepool Abortion, a pop punk duo that consists of friends Pyotr Reznikov and Matvei Solovyov. Their self-titled debut comes our ways August 23 on DZ Tapes on both digital and cassette with bouncy hits like "I Want to Die," "Real Blood," "Snuggle and Die" and post-soviet angst kindly sung in English for us non-Russian-speaking listeners. Get your first taste with the pogo fuzz of "I Want to Die" that will contrarily instill a fondness for life on a visceral, newfound level of appreciation.
MP3: Wavepool Abortion, "I Want to Die"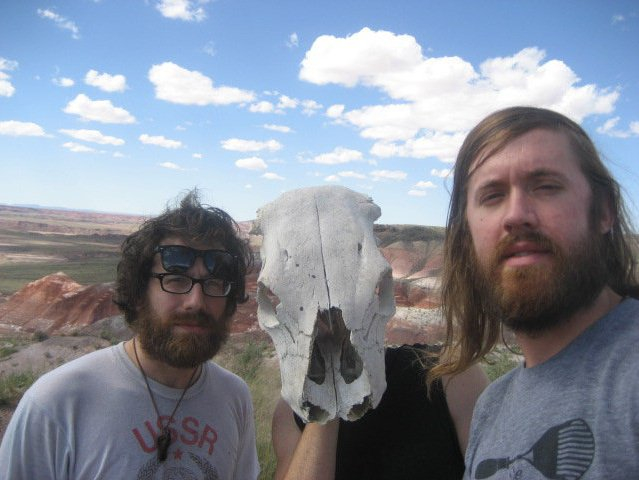 Since Christian DeRoeck's defection from Woods a few years back, he has been making some noisy power-pop with Ancient Sky's Brian Markham and Pat Broderick under the Little Gold moniker. Their follow up to 2009's On the Knife is called Weird Freedom and it drops August 23 on Loud Baby Sounds with limited pressings of some 500 sky blue vinyl, as well as copies available on digital and CD. "Sisters and Friends" brings to minds the likes of early 90s power-pop revivalists like Sloan, Superstar and BMX Bandits infused with contemporary tales of hapless romantic misadventures.
This week Seapony made a lovely Yourstr.uly video for "With You" that has made me fall deeper in love with their style of "Gentle Thursday" indie pop. I enjoy how the Jen Weidl's vocals are highlighted as the audio mixing throws the instruments down a lightly-reverb-laden hallway. Look for them now on their current West Coast tour.
Just when you heard about all you could handle from Yuck comes more news surrounding frontman Daniel Blumberg's side gig Oupa. His debut Forget drops August 16 on Fat Possum as well as on his newly founded vanity imprint Boiled Egg. Further more, Boiled Egg has at this time also slated an upcoming cassette from A Grave With No Name from the UK. The beautiful 2 part tape Lower will come out on September 26. But if the mellowness of Blumberge's solo side has you put off, Daniel is offering limited edition books of drawings made during the album's recording process, set to be released with the album August 16. Check out the agony and the ecstacy in the following video for "Physical."
Also here is the first single off Common's The Dreamer, The Believer out November 22. "Ghetto Dreams" is given the Matt Alonzo treatment which also features legend Nas edited in boudoir moments. Sweet.
I Break Horses are counting down the days until August 23 when their debut Hearts hits stores. Maria Lindén and her Fredrik Balck have been patiently taking their time over the past couple years with this release and as part of the ceremony they put out an ambitious black and white expressionist video for the "Winter Beats." Simply beautiful.
For those in need of a fresh mixtape for the weekend, South Philly's
Maybach Music Group
r
epresentative Meek Mill released Dreamchasers, hosted by DJ Drama. It features the talents of Young Chris, Beanie Siegel, Rick Ross, Yo Gotti and others with production brought to you by All Star, Lex Luger and Tone Beats.
From the Factory Records vaults comes FAC. DANCE, a collection of 12″ mixes & rarities from 1980 – 87 due this October on Strut records. Compiled by Bill Brewster of djhistory.com, the 2xCD / 2xLP set is said to contain tracks from New Order, A Certain Ratio, Section 25, Quando Quango, Durutti Column, Swamp Children, 52nd St. and plenty more where that came from. This looks like one of the better comprehensive Factory related compilations since the likes of Zero: A Martin Hannett Story that glorfies both the post-punk, no-wave and all the baggy high- steppin' bollocks that have gone unheard since the Inspiral Carpets were considered Cool as Fuck. Look for it everywhere and anywhere records are sold this October 11.
While Austra sets out on a headling national tour, Katie Stelmanis (formerly of Galaxy) is bringing the hype with a clubbed-out rendtion of "Beat and Pulse" remixed by Still Going. A little something to get your weekend started.
Beirut's upcoming album The Rip Tide comes out August 30 on Pompeii Records but NPR is providing a limited time exclusive stream here. For those who like the formality and surprise of official drop dates but can subsist on teaser leaks, enjoy the latest Soundcloud release of the single "Santa Fe", which marries some subtle organic electro with the band's penchant for brass.
Girls are preparing to release their sophomore LP, Father, Son, Holy Ghost September 13 with some promotional help from the video from the first single, "Vomit." Despite the played-up emotional heavy weight of the track, the video features Chris Owens cruising around in a hot red '68 Mustang amid the seedy maiden lanes and boulevards of broken dreams. Enjoy.