Goldenvoice's inaugural new wave nostalgia fest was a haunting treat for goth fans
The most emblematic moment of Cruel World 2022 occurred midway through Morrissey's headlining performance on Sunday; the luminescent full moon slowly disappearing into nothingness in the night sky before reappearing in blood red tones. A total "blood moon" lunar eclipse, as Morrissey crooned the fitting ballad "Every Day Feels Like Sunday." If that didn't perfectly encapsulate the brooding, haunting spirit of Cruel World, then Bauhaus' demonically godly sub-headlining set sure did.
When Goldenvoice announced the lineup for Cruel World back before the pandemic hit, it seemed to signal a new trend in music festival curation. Genre and era-specific musical programming meant to appeal to a very large but specific cult-like audience. In this case, goth, new wave, post-punk, synthpop, darkwave, deathrock, and everything in between – featuring veteran legends and pioneers of those subgenres as well as a handful of newer, modern disciples. More than two years later, genre/era-specific festivals are on the rise, and Cruel World showed the rest just how it's done. Step 1: give the people exactly what they want.
The lineup for Cruel World nailed it from the get-go. Devo! The Church! Blondie! A reunited Bauhaus! Motherfuckin' Morrissey! London After Midnight, Cold Cave, and TR/ST! It was clear right off the bat who this festival was made for. But what surprised me most upon entry was just how big, diverse, and cross-generational the goth community has become. While the '80s legends mentioned above did their part to draw in the older Gen-X crowd, the Rose Bowl's Brookside golf course venue was absolutely packed with fans of every single age demographic. Los Angeles is a bright and sunny place, but for every action, there's a positive and equal reaction. Goth isn't so much a musical genre as it is an aesthetic, and that dark, gloomy undercurrent is still alive and strong – as displayed amongst even the youngest of zoomers in the crowd. When Cruel World originally sold-out in minutes, it was no surprise that a second day was quickly added. And it's no surprise that there will be a 2023 edition too.
The Brookside venue proved to be the perfect place to host a one-day festival. An energetic crowd of roughly 25-30,000 had plenty of room and space to roam about, and organizers did a wonderful job of curating the venue's aesthetics. Pink, purple, and black colors adorned the tents and food stands, the stages were named "Outsiders," "Sad Girls," and "Lost Boys," while even the craft beer area had its own cute moniker: Tears For Beers. On Sunday, the logistical hurdles that seemed to pop up on Day 1 – parking, food & beer lines, sound issues, etc. – were completely gone, replaced with the purest of vibes. As it turns out, goths actually happen to be some of the nicest and most positive people you'll ever be around. It was that energy – to celebrate and revel in the darkness and all its shadowy tones – that drove the fest's infectious spirit. And clearly, the bands and artists fed off those wavelengths.
The performances could not have been any better. The biggest surprise for me was just how perfect all of these acts still sounded. Bands like Bauhaus, The Damned, Public Image Ltd and The Church have been around for 40 years! And yet they still sounded just like they did in the studio all those years ago. I was also taken aback at just how big and energized the crowds were. I'm willing to bet these were the biggest crowds some of these acts had played to in many years; given the level of stage production, the sets were unreal spectacles.
Early in the day, '90s goth rocker London After Midnight stunned the crowd with his rollicking tunes and epic costumes. Also, the rising Toronto synthpop marauder TR/ST – sans backing band or DJ – dazzled with his slithery stage presence and stratospheric electronic ballads, launching the crowd into an explosive dance party in the scorching afternoon heat.
From there, Public Image Ltd's John Lydon proved to be a theatrical firebrand as always – flailing his arms dramatically as he shouted PiL's sardonic lyrics over angular new wave riffs – once again proving his mettle as one of history's great rock n' roll frontmen (could we possibly get a Sex Pistols reunion at a future Cruel World?). The crowd was game to throttle and head-bang. Over on the Sad Girls stage, the legendary English punk rock pioneers The Damned thrilled fans with a high octane set of greatest hits. Frontman Dave Vanian was super spry and sounded incredible, leading the band into a tight performance that included "Dozen Girls," "Street of Dreams," and their iconic early singles "Neat Neat Neat" and "New Rose" (is she still going out with him?).
Meanwhile, Australian new wave legends The Church – led by sole original member Steve Kilbey – turned the vibes inward and laid down an emotional, melancholy-fueled set that opened on their dreamy hit "Reptile." The band sounded crisp, laying down lush guitar solos and ethereal vocal harmonies that enraptured the audience, who showed out for an epic singalong to the band's iconic radio ballad "Under The Milky Way."
The crowds only got bigger as day faded to dusk. Kenosha's the Violent Femmes, perhaps a bit of a musical outlier on the lineup, nonetheless brought their quirky cajun folk-punk vibes to a raucous crowd eager to sing along to every track, including "Blister in the Sun" and "Gone Daddy Gone." The band even brought out Barenaked Ladies frontman Ed Robertson for a bit of a bluegrass-infused detour.
One of the most anticipated and crowded sets of the day came from Devo. One of the greatest and most consistent live bands of all time, the group lived up to every expectation by utilizing their funky visuals, red cone hats, yellow jumpsuits, and deliriously funky new wave/garage punk aesthetics for the day's most entertaining stage spectacle. And of course, they trotted out their deep bench of classic songs, from "Girl You Want" to "Whip It!" to "Mongoloid" and more. Long live Devo!
But the band that captured the most excitement and anticipation, and perhaps the act most representative of the festival's vibe, was the reunited goth pioneers Bauhaus. The only veteran band on the lineup featuring all original members, Bauhaus drew the biggest crowd of the night on the Outsiders stage, and proceeded to enthrall each and every fan with their impeccably-orchestrated songs and theatrics. And holy hell did they sound perfect! Peter Murphy's booming voice is as powerful as ever, David J's basslines continue to mesmerize, Daniel Ash's riffs are still slashing and scary, and Kevin Haswell's mechanical drumming tethered it all together. Murphy went full vampire mode as he stalked and slinked around the stage, as though he were ready to turn into a bat at any second. The band opened with "Double Dare" and continued to conjure a hellish series of tunes, including "She's in Parties," "Dark Entries," and closing with their intense cover of Bowie's "Ziggy Stardust." Watching Bauhaus perform their most famous hit "Bela Lugosi's Dead" just might be one of the greatest moments in my concert-going life. All in all, it was unreal to watch unfold, and I hope the band continues to go strong for many years to come.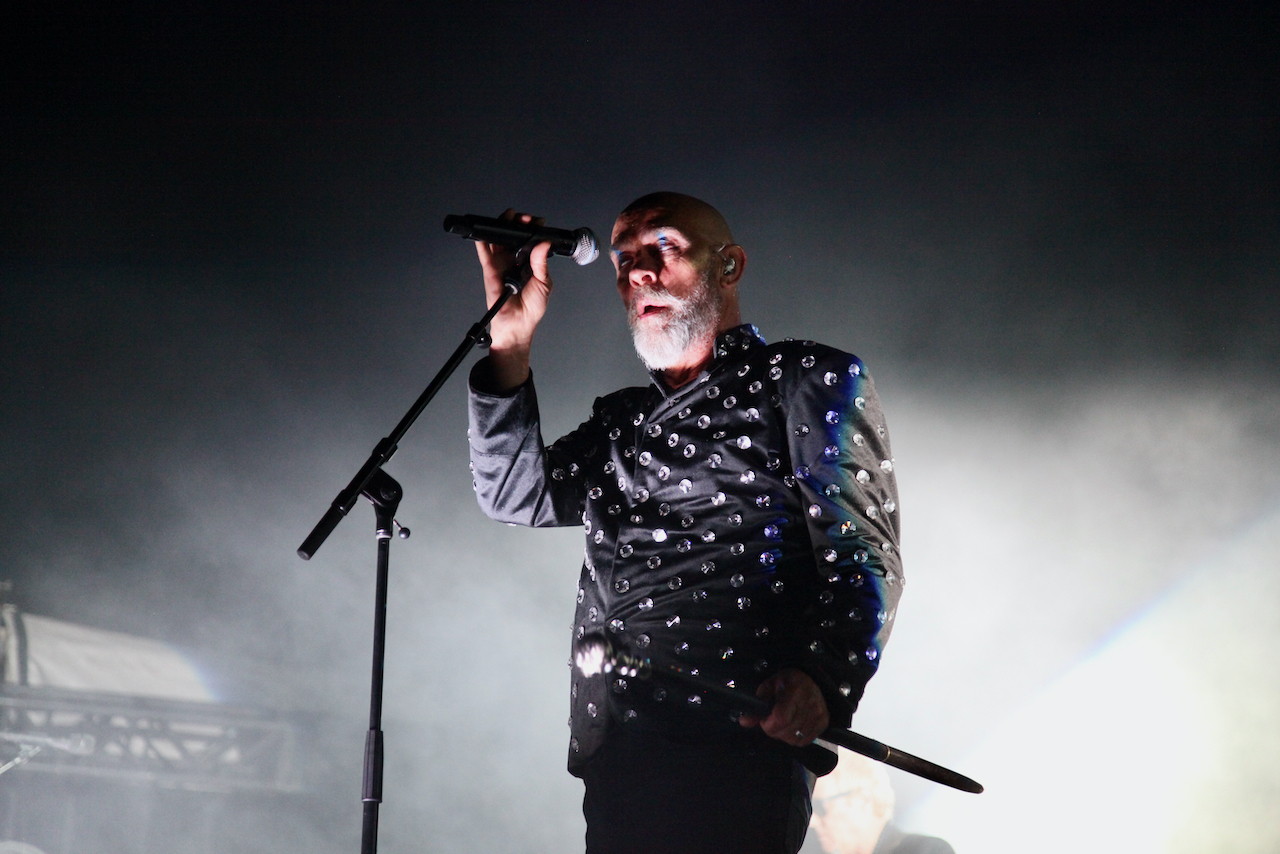 The rest of the night was full of catharsis. Debbie Harry, one of the oldest performers on the bill, charmed the massive Lost Girls crowd as her band Blondie delivered a singalong set from start-to-finish. "Call Me," "Rapture" and "One Way Or Another" will never not sound fresh as hell. The throng of fans wearing Morrissey shirts eventually packed out his festival-closing set right as the aforementioned blood moon eclipse hit. It goes without saying, but it's incredible just how perfect Morrissey's voice sounds after all these years. Love him or hate him, the Moz is an utmost professional who cares deeply about his craft. I'm sure all of his fans – some of whom camped out on the bar all day long – were left more than satisfied.
And so it went that the first ever Cruel World fest ever would capture the energy, imagination, and passion of every fan in attendance. By night's end, a sea of black band t-shirts were left with mad pit stains, fans' faces were left bleeding with mascara, but it was all worth it. Ultimately, Cruel World delivered the darkness and delight – a haunting treat for goth and new wave fanatics. You know full well we'll be back next year, choke chain, The Fall shirt and eyeliner in tow.