Yeah Yeah Yeahs, MGMT, M83 & more delivered the millennial indie rock bliss
Just Like Heaven kind of felt like stepping into a time portal to the year 2010, except everyone – including the artists and fans – are a whole lot older and more seasoned. The dazzling '00s nostalgia fest returned for its third edition last weekend at the Brookside Golf Course venue on the Rose Bowl grounds in Pasadena, and in turning back the clock, the festival delivered an incredible celebration of millennial indie rock, pop, and blog rock.
With the lineup balanced tightly between two alternating stages, the fest utilized rotating stages to maximize the number of sets that attendees could experience. Over the course of the day, crowds were treated to fantastic performances from the likes of Fever Ray, Hot Chip, Caribou, Future Islands, M83, headliners Yeah Yeah Yeahs, and more. On top of that, Just Like Heaven boasted rare reunion shows from The Bravery and The Walkmen, in addition MGMT playing a special performance of classic album Oracular Spectacular in its entirety.
As is typical of a Goldenvoice music festival, logistics were breezy, food and drink options were plentiful, and the vibes were immaculate from start-to-finish. Fans of the 2000s buzz band boom got their moneys worth and more. You can scroll through the photo gallery below for some of the best highlights.
All Photos By Michael Christy
Fever Ray
The Knife member Karin Dreijer has had a massively successful solo career under her Fever Ray moniker. On Saturday afternoon, the Swedish experimental pop star delivered a gloriously bizarro set that featured a number of tracks off her excellent recent album Radical Romantics, which she released earlier this year. Dressed in a dapper white suit and orange-pink tie, and clad in heavy goth makeup, Dreijer also performed songs off her beloved 2009 self-titled debut, as well as "To the Moon and Back" off 2017's Plunge. In a tight 45-minute span, Fever Ray set the tone for what would be a magical evening.
The Bravery
After a decade-plus hiatus, NYC synth-pop/post-punk purveyors The Bravery returned to southern California to perform just their third show since reuniting in 2021. Mullet-sporting frontman Sam Endicott was in boisterous form, and the band proved why they were such a hit on alternative rock radio back in the day. They ripped through classics like "Believe," "Time Won't Let Me Go," set closer "An Honest Mistake," and even covered a slew of classic punk covers from Black Flag, Descendants, and Fugazi. It was like they'd never broken up at all.
The Walkmen
Another band on the comeback trail, the recently reunited New Yorkers The Walkmen returned to play their first show in California in over a decade. Since breaking up, the band's mythical status as one of the pioneers of NYC's 2000s indie rock explosion has only snowballed (thanks largely to the book Meet Me In The Bathroom), and Hamilton Leithauser and company exceeded those lofty expectations, racing through a smattering of fan favorites off their albums Bows + Arrows, A Hundred Miles Off, You & Me, and more. Liethauser was in energetic form, and it looks like they've picked up right where they left off. Ultimately, The Walkmen threw down one of the best sets of the day.
Hot Chip
English dance punk greats Hot Chip have been one of the most consistent bands in the indie sphere ever since they first formed, and they've been a reliable staple of the music festival scene throughout their entire existence. They brought the heat to the Stardust stage via incendiary performances off most recent album Freakout/Release, as well as explosive renditions of classic bops "Ready for the Floor" and set closer "Over and Over," which incited a frenetic dance party to cap off the show. Frontman Alexis Taylor is still one of the best frontmen around, and Hot Chip will continue their festival reign for many years to come.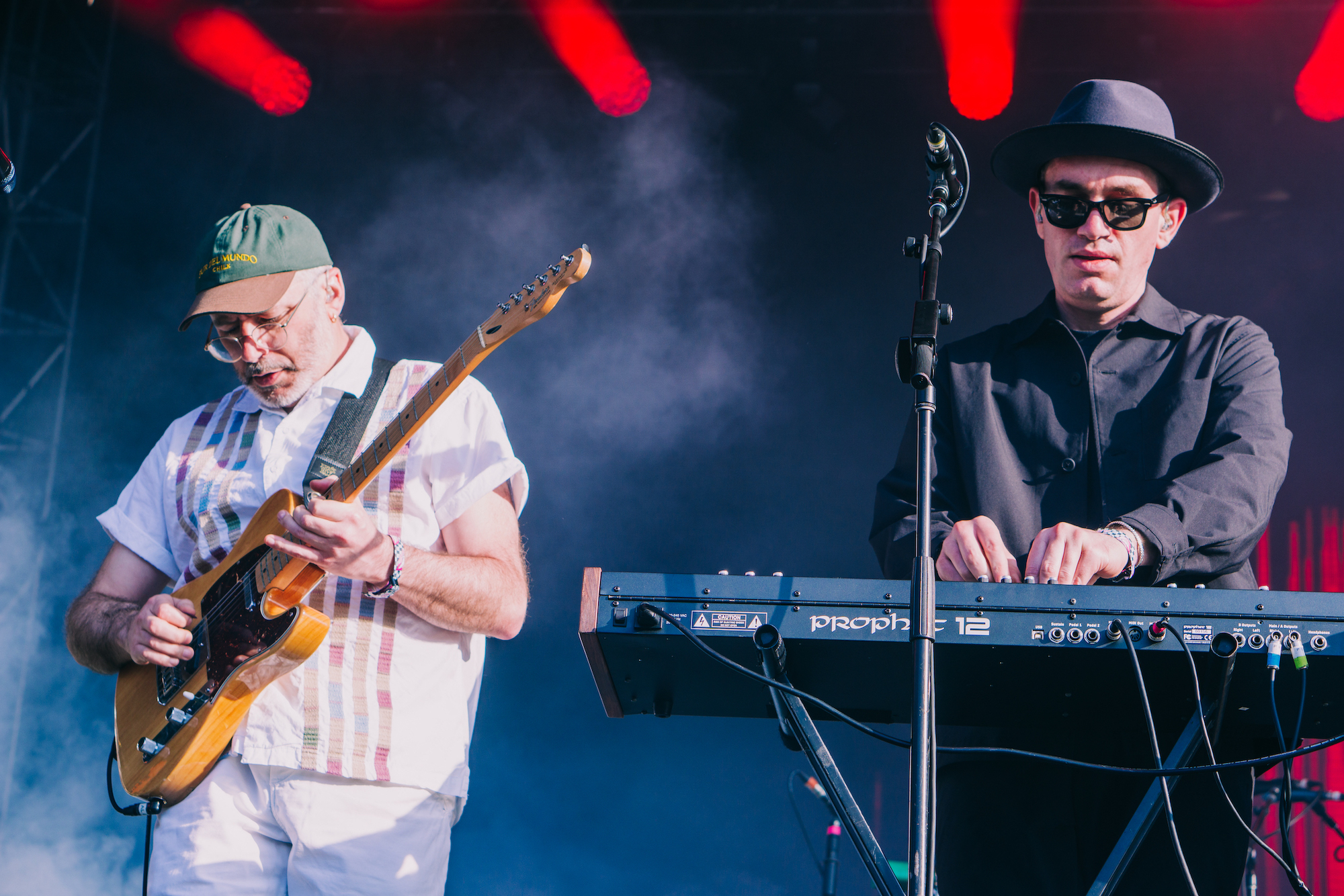 Future Islands
Samuel Herring is, without question, one of the most legendary frontmen and performers in the entire history of live music. Future Islands fans old and new were left mesmerized as he tirelessly channeled that legendary charisma that launched the band to notoriety following their viral performance on Letterman all those years ago. Much to the crowd's delight, their setlist leaned heavily on prime albums In The Evening Air and Singles. Herring screamed, thrashed and smiled his way through their set, leaving fans beaming with joy as they delivered a titanic performance of their most famous hit "Seasons (Waiting on You)." As usual, Future Islands were absolutely breathtaking.
Caribou
Over two decades into his career, Canadian producer-DJ-composer Dan Snaith is still operating at peak creativity and popularity. He still managed to turn back the clock a bit with throwback Caribou hits, including Swim classics "Odessa" and "Swim," tracks off recent album Suddenly such as "Home" and "Never Come Back," and the epic, heart-twisting set finale "Can't Do Without You." As usual, he and his band were in telepathic lockstep as they conjured a wistful, kaleidoscopic set that hit stratospheric emotional heights with a canny visual set up. It was the perfect golden hour performance.
MGMT
MGMT are one of those bands that have many sonic eras, which has ignited quite a bit of debate amongst its rabid fanbase. While many will claim Congratulations to be their best album, its their debut Oracular Spectacular that undoubtedly hits the nostalgic sweet spot the hardest. In performing that album front-to-back, Andrew VanWyngarden and Ben Goldwasser delivered the electric feels to a raucous crowd. It was a spectacular, theatrical performance – complete with a hockey playing interlude – that will go down as one of the best and most special live sets of their career. As they weaved through one singalong after another – including "Time To Pretend," "Weekend Wars," "Kids" and more – they reminded everyone in the crowd of why we fell in love with them in the first place.
M83
One of the most captivating and cinematic live bands of our generation, French dream pop sensation M83 brought a thrilling visual set up to complement their epic, soaring synth anthems. Leading off with a smattering of tracks off acclaimed recent album Fantasy, Anthony Gonzalez and his band then reeled off one greatest hit after another, including Hurry Up We're Dreaming tracks "Wait," alt-radio favorite "Midnight City," and climactic set finale "My Tears Are Becoming A Scene." M83 proved to the perfect Stardust stage headliner, wrapping audiences in a poignant blanket of shoegazy emotions that they'd carry with them the rest of the night. This band continues to stay at the top of their game.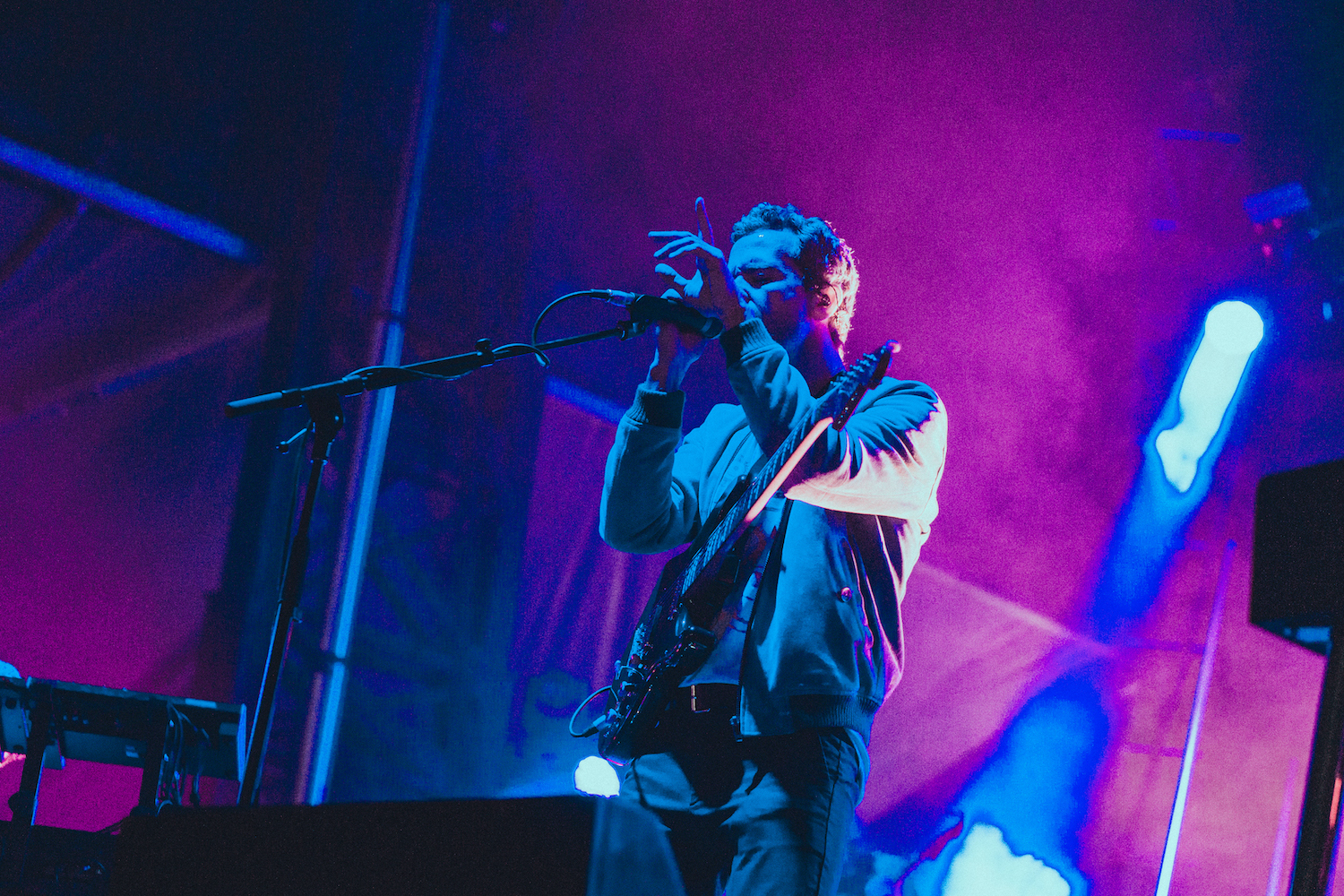 Yeah Yeah Yeahs
The indie sleaze celebration would not be complete without one of its most popular and beloved acts. Returning to headline Just Like Heaven for a second time, Yeah Yeah Yeahs once again demonstrated why they're considered to be one of the best bands of their generation. Karen O is still a powerhouse performer and frontwoman, Nick Zinner is an understated guitarist with buckets of swagger, and Brian Chase is the steady rhythmic hand. Performing to the largest crowd of the fest, the New York indie vets played a couple tracks off their latest album Cool It Down, but largely stuck to their most famous hits, including "Zero," "Heads Will Roll," "Gold Lion," and a whirlwind of tracks off their legendary debut Fever To Tell, including "Rich," "Y Control," "Maps," and closer "Date With The Night." It was a frantically energetic show that did not let up from beginning to end. If this band could headline every year, not a single person would complain. Simply outstanding. Long live Just Like Heaven!