In the mood for some good old fashioned fuzzy hard rock? Asbury Park-based band Little Vicious has just what you're looking for. Led by Marguerite King, Little Vicious has won acclaim in the revitalized Asbury scene with their righteous riffing at the core of their high energy sound and shows.
With a new album, Dark Country, on the way Impose Magazine is happy to be bringing you the exclusive premiere of the group's latest single, "Sweet Sorrow." Buoyed by the bassline, King and co. waste little time in working up a churning rock atmosphere with a brilliant chorus you'll be hard pressed to get out of your head.
To celebrate the release of "Sweet Sorrow," we had Little Vicious share with us five things that inspired the forthcoming album. Check it all out below and be sure to listen to "Sweet Sorrow" below or wherever you may listen.
Asbury Park, NJ
I grew up on the boardwalk. My parents' first run in with the AP antics was trying to go on a beach, and it resulting in my dad yelling at a beach attendant saying "Badges? We don't need no stinkin' badges!" I absolutely hated anything Bruce Springsteen until I moved out of state – and then one of his songs would come on the radio, and every salt-soaked memory of growing up in AP would come rushing back. I missed home. I had essentially exiled myself to Fort Collins, Colorado, and I had to find something to bring back to Jersey. That 'something' evolved into rock and roll. Riffs bloomed in the shadowy corners of Bond Street, lyrics spurred on watching bands at the Stone Pony, hang overs cured by pork roll. Asbury Park is a small blip of a town, but it is a definite inspiration for all things artistic – especially music.
Glenn Danzig
You love him, or you hate him. The enigma known as Danzig is arguably one of the most ridiculous and influential performers of modern-ish punk. I started mimicking him vocally as a joke (like the rest of my life) and then it stuck. The vocal style is now a definite signature for Little Vicious songs. And even if he does have public outbursts and can't take a punch, don't you try to tell me you don't get amped when you hear "Where Eagles Dare."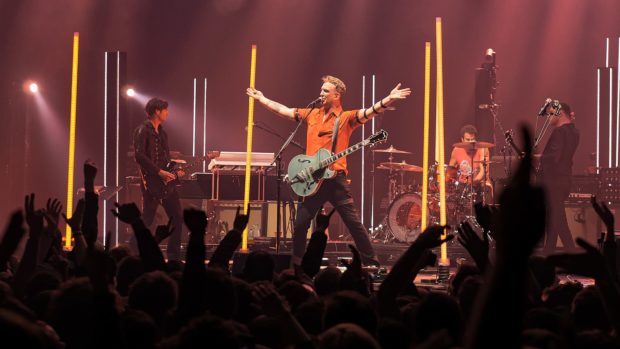 Flying V's / QOTSA
There is no way I could omit the instrument that has channeled countless riffs from my brain to our audiences. My first electric guitar was a Flying V – a classic black gloss finish with white pick guard, gold hardware, Epiphone. That thing ripped. I remember walking into a music shop in Colorado with the intention to buy a guitar. I had just been to my first concert at Red Rocks; it was Queens of the Stone Age, and long story short – that concert was the closest thing I have ever had to a religious experience. I ended up backstage and talking with Josh Homme, Jon Theodore, Mikey Shoes – the whole crew – and I realized – they were just big goofballs having the time of their lives, just like me or any other musician. Between their explosive show and seeing just how real, down to earth and ridiculous these perceived rockstars were, I got this idea in my head very clearly. These musicians traveled the world, had great times and create such an atmosphere at their shows that there is never any fighting or bullshit. And if these goons could do it, why can't I? So, the next day, I went out to buy an electric guitar, and I saw this Flying V hanging in the corner of Spotlight Music. Maybe it was my love for Hendrix, or uncommon things, or because I was so tall the pointed body fit me better than a Telecaster. Either way, I gravitated towards this instrument and never altered from the Flying V. A lot of people have told me if you play a Flying V, you gotta be a rockstar. That's all I'm trying to do, and I need that guitar as much as it needs me.
Heroin
This album is dedicated to my high school sweetheart, Dan Robinson. Almost everyone had one, and Dan and I went through so many heavy, terrible things being so young. I was committed to a rehab for heroin addiction on my 18th birthday after I tried to commit suicide, and I didn't see or speak to him after that. Well, until his funeral, almost seven years later. Dan, who had hated that drug, made one bad mistake and it ended his life. I was about to record the vocals for "Fade", a song explicitly about many friends who have died as a result of heroin, when I heard the news that Dan had died. It's actually very hard for me to listen to that song, now. As someone who has struggled with drug addiction for a very long time, I am so incredibly lucky to have survived. It would be completely unwarranted to ignore the impact that heroin has had on my life, and countless others. It is an evil, evil thing that has ended lives. And, it is an evil, evil thing that needs to be acknowledged and worked through. I choose to write about it and exorcise the demons that way, and all I can hope is that songs like "Fade" and "Spotlights" help ease that pain for others.
The Desert
I love driving. Like, a LOT. There have been countless hours on the road, and when I'm by myself, as I usually am, some of my favorite lyrics and ideas have come out of those long drives. The riff for "Honest" had been turning over and over in my head while I was on my way to Vegas for a concert. I couldn't figure out the chorus. It was missing something, dang – the whole song was missing something. The sun was trying to climb over the horizon, I was surrounded by dust and semi-trucks and nothingness. My truck sped through the low, sand and cactus filled hills, I followed the last bend and as the skyline of Vegas appeared, glimmering like a mirage maybe ten miles away – the sun exploded over the desert. The missing line for "Honest" presented itself in my head – about Sin City, the illusion of the desert, loneliness – "To be honest, it's a lie." The desert is what I see as my Dark Country. A place of banishment and loneliness, or, a place to meet your demons face to face – and come back the victor.